The August Town Board meeting
I had a very hard time at this month's Town Board meeting. It was long, though not terribly long - done by 10:30, sooner than some. It wandered a number of times, but not that wildly. I'd missed the July board meeting, so I was wondering if maybe going away for a month and coming back was just difficult.
After thinking about it for a while, I think the basic problem was that the board wasn't even in a position to provide guidance on a lot of the issues that came up. It seemed to be a meeting full of ongoing issues that hadn't yet been resolved, and new issues that all required some kind of major plan before the board would recommend doing anything.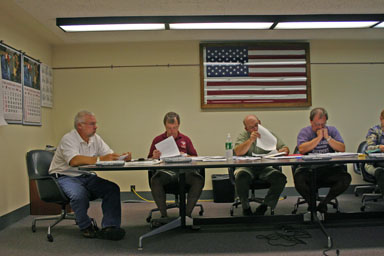 Town Board members review a proposal.
The most frustrating parts centered on community centers, emergency services, and recreation. None of these is a new issue - they've all been common subjects in both board meetings and political campaigns. I was painfully surprised by how unprepared the board was to discuss all of these topics.
The first case where I was left wondering was when the Varna Community Association came to the board with a request for a generator so that they could be a feeding station in case of a disaster. They'd been startled to hear at a Cornell University-Neighborhood Council meeting that Cornell's disaster response facilities were only for the "Cornell community", with no provision at all for their surrounding neighbors. After that wake-up call, they'd talked with the Varna Volunter Fire Company and Red Cross Emergency Services Director Mike Raffe to find out what they could do for the Varna area.
They asked the board about the possibility of funding a generator for the property, or endorsing the idea so they could start applying for grants and legislator member items. Dan Tier questioned whether they'd talked with the right people about emergency services, and doubted that connecting to a natural gas line (rather than having propane tanks) was wise. Marty Christofferson didn't seem to believe that Cornell wasn't interested in providing services to its neighbors, and cited TC3's work on similar things.
In the end, the board pushed it off, not even providing the endorsement saying that they really needed to develop a disaster plan that would include the whole town. That felt strange to me, since disaster planning has come up on a regular basis. Dryden sponsored the work that led to TompkinsREADY, and Mike Raffe is a regular speaker at meetings. Disaster planning has come up repeatedly in the past, and there's a Project Impact budget line for some of it as well.
Before this meeting I'd thought Dryden had a pretty good set of projects going on around disaster planning and mitigation. After it, I'm not sure anyone really knows.
There were two other community center questions that left my head spinning.
Jessica Houle, who grew up in Conger Trailer Park, is attending Cornell, and continues to do amazing work through the OURS program, came to the board with Rachel Kutcher to talk about prospects for a new community center there on Kirk Road. The board seemed appreciative of what she'd accomplished, but not too warm about having the town involved in actually building on those accomplishments to create a center for kids and adults. It was an interesting proposal, involving land currently owned by Covenant Love Church and developing a facility that Covenant Love could contribute to in exchange for use by their school. The board didn't seem interested in helping, though, and for me the low point came when Marty Christofferson suggested buying a truck and filling it with old computers to drive from place to place rather than building the kind of stable place a community center is supposed to be.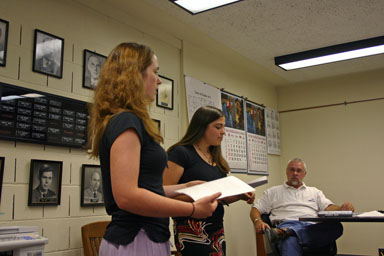 Jessica Houle and Rachel Kutcher discuss prospects for a new community center while Marty Christofferson listens.
In the end, Environmental Planner Dan Kwasnowski offered to talk with them and see what approaches he could find for them. I'm glad he stepped up to it, but it's strange to see the Environmental Planner doing that while the board can't provide guidance.
Recreation Coordinator Jen Dube brought a request from the Varna Community Center to replace a mold-infested carpet. The board had approved $25,000 for community centers at budget time. (Originally I'd heard $100,000, but that number kept falling over the course of the budget process.) Dube had tried to use that budget line as program money earlier in the year, only to be told it was for capital projects, and now she brought this, thinking it an appropriate use. The Board didn't seem to think it was an appropriate use, but no one actually knew what an appropriate use was. There was talk of forming another committee to discuss it - which would potentially take the conversation from public view - and a lot of dithering. Steve Stelick, who'd championed the money originally, bemoaned "seeing us fumble something because we didn't do it right."
The strange compromise they reached was holding back $17,000 - which seems loosely tied to possible projects at the Ellis Hollow Community Center and allowing each of the four community centers (Bethel Grove, Ellis Hollow, Varna, and Etna) to apply for $2000 each this year based on the programming they were offering.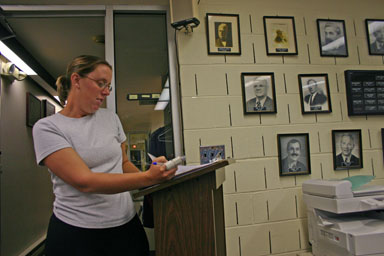 Recreation Coordinator Jen Dube presents to the board.
Dawn Potter of the Varna Community Center was prepared with a list of programs Varna has worked on and wants to work on, but the board didn't seem ready to discuss that either. Instead, there was vague discussion of the need for a town-wide recreation plan that included the community centers.
Finally, on emergency services, the Etna Fire Department's performance remains a concern. The board hasn't signed a contract with them or paid them for this year. Dan Tier reported "hearing positive things" from the department but it sounds like there's not much hard data on how adequate their call response has been and will be. Tier offered to talk with them "one on one", and Mary Ann Sumner asked to be in on that conversation, as she lives in the Etna territory. Then the board discussed an emergency services coordinator, mostly had questions, and continued that to a later meeting.
These are all difficult issues, involving taxpayer money, neighborhoods, and people we'd like to see do well. I don't expect the board to have instant answers for everything.
Unfortunately, at this meeting, it felt like the board had very few answers for any of the questions they were facing, substantial disagreements internally on what they'd meant by past actions, and very little clear vision for the future.
I know people think of government as something they only want to hear from when they have a problem, but it seems pretty clear to me after this meeting that our government isn't ready to address those problems. I don't think this is something instantly solved at the ballot box this November or next, but the Town Board needs to find direction on all of these issues, and soon, and we - members of the community - need to help them find those answers.
For a gentler report on the meeting, see Town Board member Mary Ann Sumner's summary.
Posted by simon at August 21, 2006 12:47 PM in politics (local)
Note on photos