Amazing clock-making on Lee Road
Last week offered a Greater Ithaca Art Trail open house, and I knew there was one place on it that I'd wanted to see for a long time. I'd seen the work of Mary Ann and Terry Lutz in Fine Woodworking magazine, where I was startled to find one of their clocks with "Dryden, NY" under their names. I'd since met them and learned that they work as the William S. Daisy Company, but I hadn't seen their work in person.
Last Saturday, we visited their house and workshop - or perhaps it's better to call it a house, workshop, and museum. In their work creating reproduction clocks, they've collected a lot of original clocks, and a number of other original 19th-century items as well. They know the subject, they have lots of examples, and they produce amazing work. (They also make mirrors, decorated boxes, and other items.)
I don't think my pictures begin to capture what they're doing - mirrors and gilding are notoriously hard to photograph - but both the assembly and carving of the cases (by Terry) and the decorative painting (by Mary Ann) is painstaking and delicate. They don't make the movements, but they insist on high-quality clock movements and paint their own dials, as well as all the decoration on the boxes.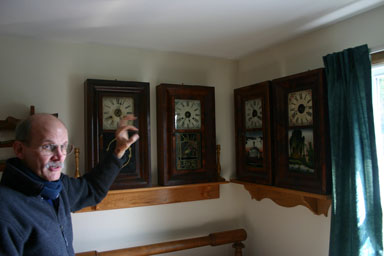 Terry Lutz explains the details of 19th-century clocks.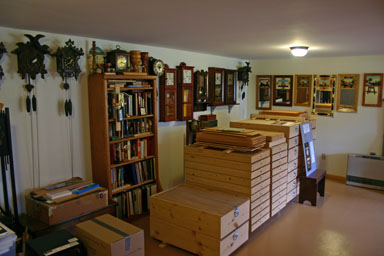 Storage and clocks near the work area.
I'd strongly recommend visiting the Lutzes the next time it's open house season on the art trail, and they seemed pretty open about visitors who call as well. I've posted a small photo gallery, but it doesn't compare to seeing this in person.
Posted by simon at October 28, 2006 5:57 PM in Village of Dryden , craft
Note on photos