Another outrage at the Journal
I've complained about the Ithaca Journal for a lot of reasons, but this is definitely the craziest thing they've done. Fortunately, they've contained the damage to their print edition, keeping the dangerous photos and text off their online edition.
What did they do? They published a photo of Santa and Mrs. Claus in a police car, being hauled away. They even misspell the name as "Clause" in a caption about Charlie Miller and Emma Stowell watching their arrival. What's more, the paper suggests that those might not be the real Santa and Mrs. Claus, disclosing alternate identities for them. This qualifies as journalism?
Just kidding. The tree-lighting was very nice, though I think the threat of bad weather kept people away, and the Dryden schools cancelled some related activities.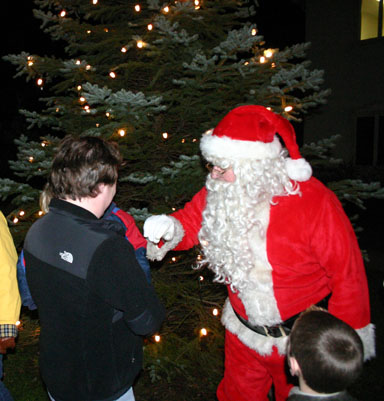 Santa saying hello to kids at last night's tree-lighting ceremony.
Also in the print edition, Dick Jorgensen of Freeville and his wife have a photo of themselves on Whiteface Mountain in the Adirondacks.
In Darts & Laurels, the Dryden Faculty Association thanks "the support personnel who do so much to help transport, educate and feed our children and those who keep our schools clean, safe, and our offices running smoothly."
Posted by simon at December 2, 2006 9:57 AM in Ithaca Journal , Village of Dryden
Note on photos