Chicks come home to roost
The weather outside may be frightful - snow Wednesday night? - but we've got a very small army of very small peeping chicks here reminding us that it's springtime.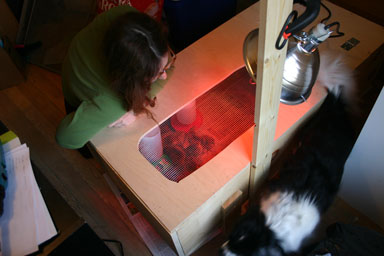 Angelika, Spring, and the brooder box.
Spring seems a lot too interested in the brooder box, but hopefully she'll calm down. The cats haven't seen it yet, but the peeping seems to have their interest.
The chicks themselves seem pretty content. They have food, water, and heat, which seem to be the three ingredients for happy chicks. I built the brooder box, and we'll see how that works out. So far they're staying clustered by the light, but I guess that's normal for new chicks. We have six Rhode Island Reds; it was supposed to be three of those and three Golden Wyandottes, but Agway was out of the others when we went to pick them up.
In June I'll be building a coop in the front yard, where the cats and dogs can't bother the chickens and where the chickens can't do much damage. We're planning to integrate them with the rest of the garden over time, and we'll see how that works out. Hopefully we'll have eggs in a few months.
Posted by simon at April 10, 2007 6:54 PM in permaculture
Note on photos