Eight Square; storm damage
This morning's Ithaca Journal visits the Eight Square Schoolhouse festival, which I missed this year. It sounds like they had they usual fun re-acquainting people with the schoolhouse, which last served as a public school in 1941.
I have my doubts about the article's claim that this school's octagon shape had Quaker origins, as I don't see mention of it in Goodrich's description of its creation, and the only Quaker I can find mentioned in the history is over by Dryden Lake, though he was a traveling shoemaker. Goodrich notes that there were eight families involved in building it - for their 87 children! (The Octagon House, popularized by Orson Squire Fowler, didn't arrive in large numbers until the 1850s, well after the 1827 schoolhouse construction.)
Storms continued to pound Dryden and the surrounding area Saturday night after Friday's damage. We were brush-hogging out in Freeville, and I could see lightning to the south and east, on Mount Pleasant and over by the Village of Dryden. Then it started coming toward us, and fortunately we finished up and cleared out just before the rain and lightning arrived.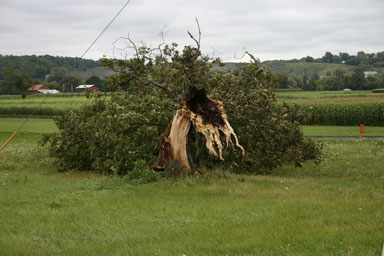 Fallen tree along Ed Hill Road.
Posted by simon at August 27, 2007 12:04 PM in Ithaca Journal , history , schools (other) , weather
Note on photos