Energized Dryden Community Cafe meeting
Last night I saw more positive community energy at Dryden Village Hall than I've seen at any meeting in Dryden. I'm guessing around 80 people showed up to hear what might be coming and to share ideas for a possible Community Cafe on the four corners in Dryden, at the former Charlie's Diner location.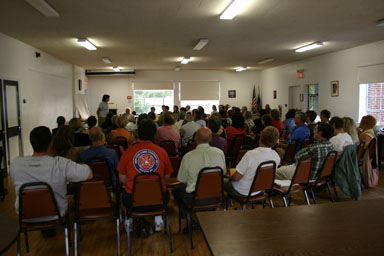 Full room to discuss the Dryden Community Cafe
Kim Schenck introduced Wendy Martin, who originated the idea and has been pushing hard to see it accomplished. Martin gave the audience a "tour" of the proposed Community Cafe, describing what it might look like to approach and walk through the place. The setting, the people, the food and coffee, and the community information seemed to materialize in the room as she described it. Next, Elsie Gutchess spoke about the kid-friendly Dryden she had moved to in 1938, about a much more vibrant downtown, and applauded the organizers for their "giant vision to put a heart back in the center of Dryden."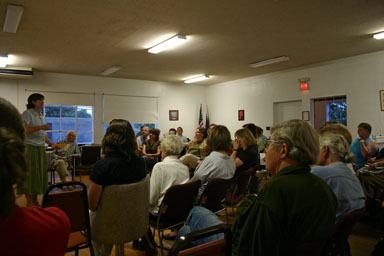 Wendy Martin describes the possibilities of the Dryden Community Cafe
Much of the rest of the meeting was open discussion, in which probably twenty people added their comments and suggestions. This is kind of a summary of that conversation, though certainly not complete and not necessarily reflective of the direction the organizers will go on specific projects.
Location

The Community Cafe would be at the former Charlie's Diner, at the intersection of West Main Street and Route 38. Mark Goldfarb and Bob Porteus, who own the property, will support the project with at first a minimal and later a low-cost rent. The location is accessible from the back, though some work is necessary to improve that and perhaps make the back courtyard area more attractive.

Services

A key aspect of the Community Cafe is providing a place where people can come together and meet socially. Coffee, ice cream, and baked goods would be a key part of this, though they don't plan to ever become a full-service restaurant and would prefer not to compete with existing businesses. (Some speakers enouraged them to focus on locally-produced or roasted food and drink as well.) The Community Cafe could also host events, and would also be an information center where other Dryden organizations could present their activities.

Funds and fundraising

Apart from some equipment, the organizers are expecting to need about $2000 to get off the ground (for insurance, permits, etc.) and need to make around $1000 a month to keep the place going. The ongoing money seems likely to come from the coffee shop. Martin has been talking with the Town about their Community Center funds, and Town Board member Mary Ann Sumner attended the meeting and encouraged the group to apply for that money. There were several suggestions for musical fundraisers - band performances, "battle of the bands", a cappella shows, and more.

Audience(s)

A key part of the conversation was around making sure that kids and teenagers find it an interesting place for after school, but that's just one part of what they hope to have in a day. Martin talked about a shifting clientele, with adults in the early afternoon, young people when school gets out, and possible events at night. That may be a bit tricky to manage, but the building can be configured to have a few different spaces, and hopefully can prove a home to a community that includes senior citizens, teenagers, young parents, old-timers, newcomers, and a wide variety of other groups.

Running the business

There were some concerns about "management by consensus" and a suggestion that perhaps the Community Center should hire a franchise coffee place. The franchise suggestion went over pretty badly, at least in the corner of the room I was in, but there was a lot more positive murmuring about the need to have a manager and possibly eventual paid employees to keep the place running when volunteers weren't available. Martin had already lined up some baristas with lots of coffee shop experience.

Legal status

With Mike Lane's help, the four original incorporators have filed with the New York State Secretary of State to become a "social organization" non-profit corporation. They're also working on getting the insurance they'll need to get this going. They can't yet accept tax-deductible contributions, but will be able to as soon as the Secretary of State approves the corporation. (They also have an address - Community Center Cafe, P.O. Box 801, Dryden, NY 13053.)
There was also some broad conversation about downtown Dryden that I think it's important to consider. Martin mentioned the Village of Groton, a place that seems to be doing very well lately. Groton's downtown is comfortable, and business seems more stable. They have a coffee shop, bars, restaurants, and stores. The other end of the Purple-Green rivalry seems to have some advantages at the moment. There was a regular current in the discussion of the need to revive downtown Dryden, and to get the four corners busy again - with foot traffic and business, not just the flow of cars and trucks.
Another conversation I liked began when Martin mentioned that Mark Goldfarb had asked her what failure would look like. She said that even if this didn't quite take off, and only lasted six months to a year, a lot of people would already have met each other in that time and made new connections. She's already made lots of connections through this project, and so have other participants. Margaret Lorentzen picked up that thread, telling of a dairy bar her sister had started to give local kids a place to go. It didn't work out as a business, but she met her husband there!
In one of the last comments, Anne Rhodes pointed out that what they were proposing was difficult but worthwhile. People spend their time in their cars, watching television, and on the Internet, and in their separate homes with little need to go out. She called for the organizers and supporters to be creative in getting people to come out of those pursuits and connect to each other as neighbors.
At the end of the meeting, people enjoyed the snacks and signed up to help.
If you'd like to see a bit more of the meeting, I've posted a photo gallery.
Update: WHCU reported on last night's meeting. I was glad to see Geoff Dunn, their news director, there. I think that the Journal had someone there taking notes, so maybe we'll see a story from them too.
Posted by simon at August 24, 2007 8:41 AM in Village of Dryden
Note on photos