Corrections day
A few weeks ago I published a piece on local flour that included this picture: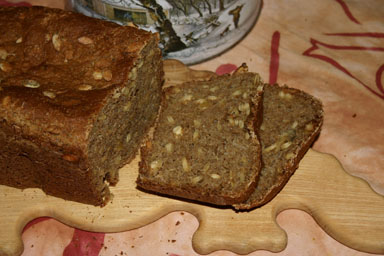 Bread made from fresh whole wheat flour.
The Dryden Courier asked for the recipe, which we sent:
Pumpkin Seed Bread - Angelika St.Laurent

I always add the ingredients in the following order:

1 1/4 cups Water
2 TBSP Honey
1 1/2 TSP Salt
21/4 cups Whole Wheat Bread Flour
1/2 cup Oat Flour
1/3 cup Buttermilk powder
1 cup Pumpkin Seeds (raw)
1 1/4 TSP bread yeast

Choose bread machine cycle for dark wheat bread.

Notes: I grew up in a family where food was never ever thrown away. If in summer the milk gets slightly sour and is no longer pleasant to drink, I don't discard it, but make a bread substituting the water and buttermilk powder with 11/4 cup of sour milk. (Don't use rotten milk, though!)

Many people like their breads a bit fluffier than I do. Replace 1/4 cup of the whole wheat bread flour with white bread flour and the loaf will be lighter textured.
It's on page 6 of the "Autumn Between the Lakes" insert that came with last week's Courier and I think the other Finger Lakes Newspapers.
They wanted to broaden this for readers who don't have bread machines, and added:
Bake in oven at 450 degrees for one hour or until a straw can be withdrawn without bread sticking to it.
The Courier warned us that they had added the wrong information, but I didn't see the recipe in the main part of the paper, and forgot about it. Angelika found it, and worries that not only is the temperature wrong - 375 degrees is more likely - but that it doesn't mention letting the bread rise at all. Hopefully there aren't a lot of cranky people with burned and very dense loaves of bread out there....
It's not just the Courier. Today's Journal includes a correction that:
Hours are noon to 7 p.m. Tuesdays at the Tompkins County SPCA Dorothy & Roy Park Pet Adoption Center. A brief item on page 1B Wednesday regarding new hours gave an incorrect hour for closing time on Tuesdays.

The complete schedule is noon to 5 p.m. Sundays, Mondays, Fridays and Saturdays; noon to 7 p.m. Tuesdays and Thursdays and closed Wednesdays.
The online version of the paper has it right now but the print version shows the wrong times on page 1C, just across from the correction.
I probably need to make some corrections here too, though...
Posted by simon at September 6, 2007 12:25 PM in Dryden Courier , Ithaca Journal
Note on photos