Sungiva at two (months)
Today was Sungiva's two month sort-of-birthday, which she celebrated with lots of screaming, but also with some playful fun and with a surprise, turning herself over from "tummy time" to her back.
She's had a busy month, eating as much as she can and making sure our sleep is carefully regulated. She's been extra-happy the past week, with Angelika's parents visiting. When my parents came up, we had double-grandmother power, and of course she was very very well behaved.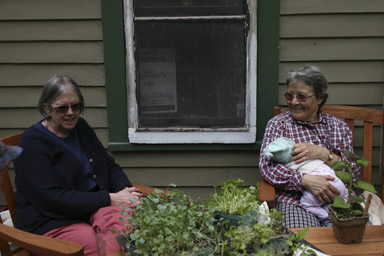 Sungiva with her grandmothers.
For more fun photos, see the second month gallery.
Posted by simon at May 27, 2008 10:06 PM in Simons Life
Note on photos