Pheasants from Farm to Food Banks
The colorful pheasants of Game Farm Road will be no more - Governor Paterson announced the closing of the Reynolds Game Farm to "save up to $750,000 in annual operation costs".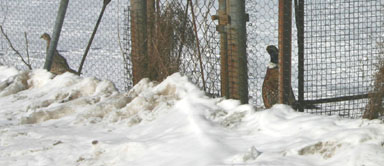 Pheasants pondering at Reynolds Game Farm
And the 8,000 pheasants?
DEC considered several options in preparation of the farm's closure. However, it found neither relocation nor release to the wild viable. A small number of pheasants may be taken by private game breeders or farms. However, stocking facilities were either unwilling or ill-equipped to accept the entire pheasant flock. The pheasants have had their wing feathers clipped and are unable to fly, an unsuitable condition for release into the wild. Cornell University will perform avian influenza disease testing and certification free of charge. Once the pheasants are processed and packaged, they will then be donated to a food bank in the Southern Tier.
I'm not really sure how you cook pheasant, though I doubt it's that hard. (And weren't we releasing birds with clipped wings into the wild before? That doesn't quite make sense either.)
Now we can watch for the real question, over the land. I'm guessing Cornell will get it eventually, but who knows.
Update: Here's the Journal article and the New York Times article.
Posted by simon at December 15, 2008 3:49 PM in New York State
Note on photos