Not much support for current zoning draft at public meeting
Last night's public meeting on the new draft of the zoning law was pretty different from the meetings (1 2) on the earlier draft. While the earlier meetings had included a fair number of "we need this zoning" and "I could almost support this" kinds of comments, last night's comments were almost universally of the "too much here is wrong" variety.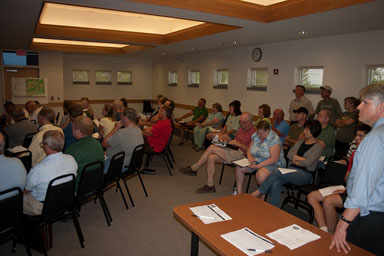 Part of the crowd at zoning meeting.
Jim Crawford (the Dryden Republican Committee Chair) seemed to sum up the state of the meeting best, telling the Planning Board:
"Devote yourselves to Varna, because I think the rest of the Town needs some more time on this."
I'd estimate that about three-quarters of the comments were either from Varna residents asking for more precise zoning or from people asking for far less zoning. While there's an argument that making both sides annoyed is a good sign of compromise, that really didn't seem to operate last night. Many of the folks talking about the law being too restrictive also seemed supportive of taking a closer look at Varna, and the Varna residents didn't call for a rush to pass the current zoning either.
Art Berkey, Jim Skaley, Mike Richardson, Melissa Amodei, and Jan Morgan all spoke in support of more precise zoning in Varna than the current goldenrod blob, mostly citing the recent detailed proposal. Amodei brought up the challenges of getting bank financing for business in a zone whose uses weren't clear, a concern that also echoed through later discussion about shared driveways. Jan Morgan suggested that the board take a close look at what causes problems in Varna:
"Some people seem to think of Varna as a problem that needs to be fixed. Varna is not a problem. The road that goes through Varna is a problem that needs to be fixed."
Environmental Planner Dan Kwasnowski mentioned the possibility of further study in Varna, which was received pretty enthusiastically but with the difficult question of "when".

Art Berkey speaks for the Varna Community Association.
Two of us spoke about the problems of the expanded map and uses of the commercial zones. I'll write mine up in my next post (and I was wrong about one piece of it). Vladimir Dragin (of the amazing Book Barn of the Finger Lakes) asked hard questions about why exactly it makes sense to extend commercial districts along Route 13 in an area the Town's been working hard to protect by purchasing development rights. He also pointed out potential traffic issues that could be created by connecting 13 to North Road through driveways.
Deb Shigley asked about the Workshop/Garage question I'd also had, and I'm happy to report that the answers were all of the "we meant to fix that earlier and we'll make sure it gets fixed" variety. She also asked about seemingly contradictory parking rules around paving, pointing out that the definitions section of the document needs work.
Nancy Munkenbeck suggested easing the limitations on what you can do in Rural Residential districts, a list I think I need to go through in much greater detail. In particular, I liked her bringing up churches that are no longer in use and how these prohibitions would make it really difficult to reuse them for anything other than housing.
There were a lot of broad comments about zoning taking away freedom, one of which ended with a threat:
"I'm not a developer, and I think our freedoms are being infringed upon here, okay? You guys want to have control, control, control, go someplace else and live, all right? This is the United States. I understand why we've gotta have some sort of coordination, but I'm sorry - don't tell me what I'm going to do with my land. [...applause...] And if you come to tell me that you're going to do something to me, you're going to find a body laying at the end of my driveway."
That did not go over well.
There were lots of questions about conservation subdivision, and many doubts about how restrictive the process would be. I have to admit that I've still not really figured out how it works, and I'm not sure that last night really helped me with that. On the one hand, it seems designed to minimize the amount of development in sensitive areas; on the other hand, conservation subdivision was mentioned as an optional way to get units into a plot in the Rural Residential and Rural Agricultural zones. I'm left wishing the Planning Board had followed earlier proposals to sort out the subdivision work first before tackling zoning as a whole, though I know they're intertwined.
David Bravo-Cullen asked if Section 500 of the law, which states:
Uses which are not explicitly permitted are prohibited,
could be reversed, allowing uses that aren't prohibited. I'm not sure that works in New York State, but that clause has been used before in Dryden (though not tested in court) with regard to Cornell's plans for a wind farm on Mount Pleasant. (The Town later passed an ordinance allowing residential-scale windmills.)
Bruno Schickel, who had written a piece opposing the earlier proposed zoning, continued his press on the zoning proposal as too restrictive. He was the only person I heard call for increasing density in Varna beyond the recent increases, but he also had lots of questions about the general drift of the law, conservation subdivisions, and the process.
The Planning Board will discuss passing the draft law to the Town Board at their meeting next Thursday, the 29th. Town Supervisor Mary Ann Sumner said that she "would love to wrap it up by the end of the year", a prospect I don't think most of the audience was enthusiastic about. There will be at least one more public hearing on the law.
I'm sure I'll disagree with Jim Crawford about the details of zoning when we finally get there, but for now, I think he's right. Slow down, and focus on getting the part of the Town that wants detailed zoning right. Zoning is supposed to last for decades, and though it can be amended, the kinds of questions asked last night raise hard questions about the overall approach, not just the nits.
Update: I've posted my imperfect recording of the meeting (37.6MB QuickTime). The first hour is mostly the presentation by Environmental Planner Dan Kwasnowski and consultant Mike Behan. I think it's comprehensible without their slides. Public comments start around 1:04 into the recording. The whole thing is about two hours and forty minutes.
Posted by simon at July 23, 2010 7:06 AM in planning and zoning
Note on photos