Dryden Lake Festival
I only managed to get over to the Dryden Lake Festival for a few hours on Saturday, but it was amazing. I loved the Revolutionary War reenactment tent, and not just because they were firing cannons and muskets.
I saw a few canoe races, and went out twice myself. Unfortunately the Dryden Republicans beat the Dryden Democrats every time - it happens. The lake was beautiful, and they had a fishing derby and water dog demonstrations going on. There were also vendor booths selling various foods, items, and ideas.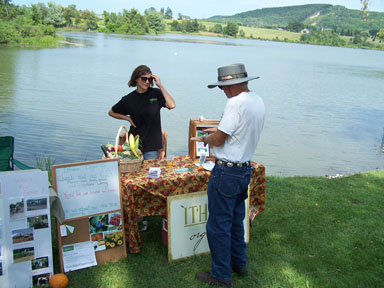 Presenting Ithaca Organics, grown in Dryden.
The classic cars were a fine component. I seem to have taken up gardening and stonework this summer, so probably can't take up auto repair too, but it's always nice to see cars built in an age when the insides of cars were supposed to be interesting to their drivers.
We missed the fireworks, as an extended stay in the bouncing tent made Sungiva just a little tired. She loved the horse, goats, and alpaces too. The music we heard was great, and it was good to see so many people out on a beautiful day in a beautiful place.
I've also posted a gallery with lots more to see.
Posted by simon at August 16, 2010 5:18 PM in Dryden Lake , recreation
Note on photos