Varna Fire Company bunkhouse ready for use
The Varna Volunteer Fire Company has built a new bunkhouse, a building neatly hidden behind their station that lets them provide housing to up to eight fire personnel who will be ready to respond to calls quickly.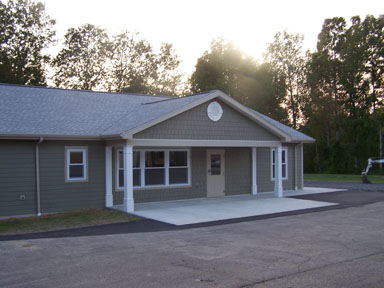 VVFC bunkhouse ready for work.
The VVFC has been talking about a bunker program for longer than I've been running this site. Cayuga Heights and Dryden both have bunker programs, which make it far easier to ensure that responders are ready to leap out the door whenever there's an emergency.
The rooms are small and spartan, but nice:
I've posted a gallery of photos showing the construction of the bunkhouse over time and its current pristine interior. I'm sure it will be getting a lot of use in years to come.
(I joined the Varna Volunteer Fire Company as a supporting member back in January. No, I'm not leaping into burning buildings - I'm writing software that prints badges for the people who do that, and who do a whole lot more. I figured I'd be done by February or early March. At the meeting I attended, they were wrapping up the plans and financing for their new bunker program, but hadn't yet broken ground. They finished building the bunkhouse at just about the time I finished my badge project for them.)
Posted by simon at August 27, 2010 7:08 AM in Varna , emergency services
Note on photos