VVFC honors former Chief Ted Szymanski
I've noticed for a few years that the flags on fire stations and at the State Police are sometimes at half staff when the rest of the flags in the area are flying normally. This week, I got to know about one of those half-staff flags, and had the honor of seeing it lowered to be given to the family.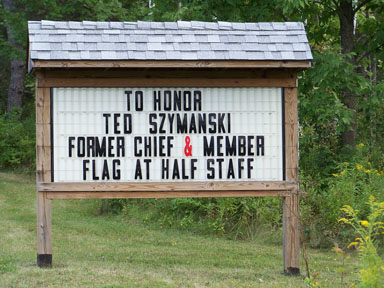 VVFC explains half-staff flag.
Ted Szymanski was chief of the Varna Volunteer Fire Company in the early 1980s after years as a volunteer, captain, and deputy chief. He was a fire instructor as well, an adjunct instructor at the NYS Academy of Fire Science in Montour Falls and the National Fire Academy. By day, he was a math professor at TC3.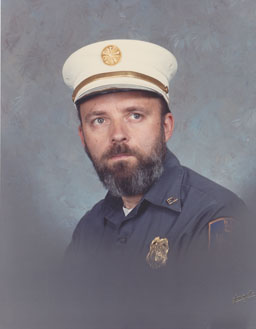 Ted Szymanski as Chief of the Varna Volunteer Fire Company.
Szymanski's wife Mary told some of Ted's stories. My favorite was the one where he was inside a burning building and a phone kept ringing. He finally picked it up, and explained that he was fighting a fire. The woman at the other end thought it was a strange joke the owner of the house was pulling to get out of finishing some work for her. He got back to fighting the fire, but half an hour later a car pulled up, the woman got out, and marveled that yes, there really was a fire there.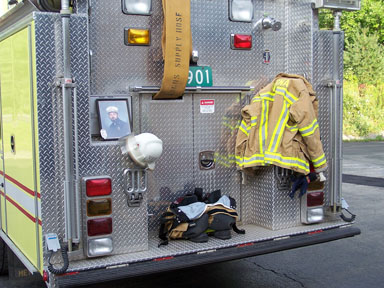 Turnout gear arranged in memory.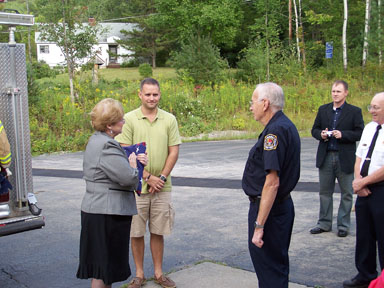 Mary and Sean Szymanski accept the flag from Duane Testut and Chief Roy Rizzo.
I've posted a much larger gallery of the family's visit and receiving the flag.
Posted by simon at August 28, 2010 9:59 AM in Varna , emergency services , in memory
Note on photos