Who or what leaves behind dead ducks and geese?
Some days I just don't get it. I heard from a friend on Facebook that she'd seen dead ducks and geese on Lower Creek, and wasn't able to get anyone in government to take a look. I went over - to the turnaround just north of Route 13 on Lower Creek Road - and sure enough, there were two dead Canada geese and one dead mallard duck.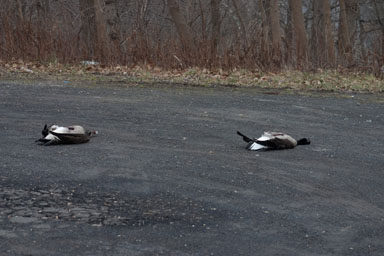 Dead geese, Lower Creek at Route 13.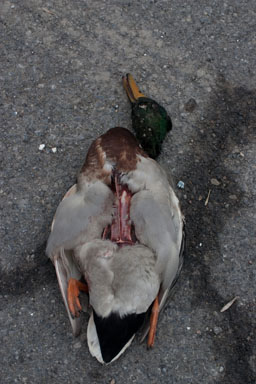 Dead mallard, Lower Creek at Route 13.
I didn't see signs of shooting, though I didn't look that closely and didn't handle them. It seems really unlikely that a car would have hit all of them. They all seemed to have their breastbones exposed and were missing what would be the breast meat, though I don't know if that happened later - a passing animal?
Very very strange, and weirdly disturbing. Sorry if this one is too graphic.
Posted by simon at January 10, 2012 3:08 PM in Route 13/366
Note on photos