Bordoni motorcade through Dryden tonight
I just got this from Varna Volunteer Fire Company President Wendy Hoose:
Hello all VVFC members,

To honor our fallen hero, Chris Bordoni, Varna has placed our flag at half-staff and well as Duane has placed a nice message on the Road Sign. Vince, Sam and others will be driving down in 1901 on Thursday for the funeral.

If you would like to show your support today, Dryden Chief Mark Bell has invited us to help line the streets of Dryden to show our support and respect for Chris giving his life in the service of his county. The motorcade will be going from 81 to 281 to 13 to Stewart Park into Ithaca. If interested meet at the the Dryden Fire Station at 1830 tonight!

God Bless you all!

Wendy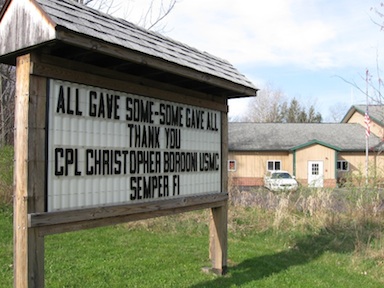 VVFC honors Christopher Bordoni with message and half-staff flag. (Photo by Duane Testut.)
There's more general information in the Ithaca Journal report this morning:
Ithaca -- Cpl. Chris D. Bordoni will be brought home to Ithaca on Tuesday in a motorcade including the Bordoni family, several Marines, patrol vehicles from several police agencies, Bangs Ambulance, the Ithaca Fire Department and a motorcycle escort group called the Patriot Guard Riders....

Cpl. Bordoni, 21, died on April 3 at San Antonio Military Medical Center. He had been receiving treatment since January for severe injuries received while serving in Afghanistan.
Update: more from the Journal:
High above the roadway, a huge flag draped from the ladder of a Dryden fire engine. The flag was a way to honor the service and courage of Cpl. Bordoni, said Fire Chief Mark Bell. "I got nothing but e-mails from the members asking us what we could do. Everybody had the same vision," he said of the flag.
Posted by simon at April 10, 2012 2:43 PM in emergency services , veterans
Note on photos