School board candidates, Happenin' in the Hamlet, AES maneuvers
The Ithaca Journal has a Meet the Dryden School Board Candidates set of articles from Paul Lutwak, Bill Harding, and Lawrence Lyon. There are three candidates running for four slots, so I'm guessing someone out there will be elected through a write-in.
Groton Town Talk notes McLean's Happenin' in the Hamlet festival, which is coming this weekend.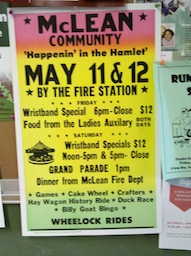 Happenin' in the Hamlet, coming this weekend. (Poster at Dryden Community Center Cafe)
Finally, there's an article on legislation to keep AES Cayuga open, preserving the Lansing coal power plant that produced most of Dryden's electricity until this March. The proposal, which has the NYS Power Authority buy relatively high-priced coal electricity for distribution at low cost, doesn't really add up to me, though I'm also not convinced that the current crash in natural gas prices will last forever. My guess is that this is more Senator Nozzolio's gesture toward Lansing than an effort likely to succeed.
Update: Stuart Staniford's take on the power plant seems about right.
Posted by simon at May 9, 2012 8:34 AM in McLean
Note on photos