Apartment buildings for sale in Varna
I noticed a few weeks ago that several houses in Varna had for sale signs on them, all from Christopher George Real Estate, which tends to focus on Ithaca rental properties.
Christopher George don't seem to have a web site, but the owner of the properties, Kimball Real Estate, does, including a listing of neighboring properties. The site doesn't indicate which properties are for sale, though I think 972, 973, and 977 Dryden Road all have for sale signs.
Clicking on the house pictures brings up a lot more detail, including rental rates - though pricing per person on the houses means that these are a lot more expensive than I'd thought. 973 Dryden Road, a four-bedroom house, costs $325 per person for four people - $1300 a month! Even accounting for taxes of all kinds and mortgage payments, buying a house is definitely an enormously cheaper way to live around here.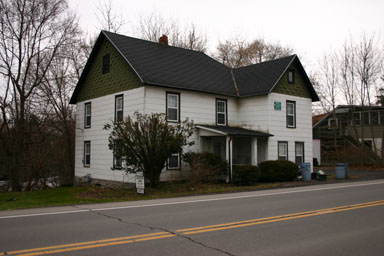 972 Dryden Road (map | rental rates)
I'll try to find out what the asking prices on these buildings are.
Update: I called Christopher George Real Estate and Ed Finnegan was kind enough to give me the asking prices. They're asking $129,500 for 972, $139,500 for 973 (it has a larger lot), and $119,500 for 977.
Posted by simon at January 12, 2004 12:40 AM in Varna , photos , real estate
Note on photos