Town Board on annexation
[This Thursday's Town Board meeting had enough to it that I'm going to publish a series of articles on what happened, focusing on specific topics, rather than try to cover it in one huge piece.]
The Town Board resolved the annexation issue this Thursday, voting 3-2 in favor of findings proposed by Mike Hattery that put annexation in a much more favorable light than the findings proposed by Mahlon Perkins in Febuary.
Fred Apker, who has a parcel next to the parcel being annexed, spoke during the citizens' privilege period. He said:
"I think it's inappropriate, and it shows poor planning by our town. To just take one sliver of land out of a parcel... I feel is inappropriate to be annexed. If the entire Cortland Road sewer district were to be annexed, or if there were roads or something that divided it up, that would be appropriate.
As far the DOT going in, I realize that we're not talking about that tonight, but it seems like that's the sole usage of that property. I just can't see, with the kids walking by the schools, having all those tractor-trailers driving by, etc. I feel that that particular parcel is inappropriate. I think with excellent planning somewhere around Hanshaw Road, where there are a lot of accidents, where the plows and the sanders are needed, and that would be more centrally located."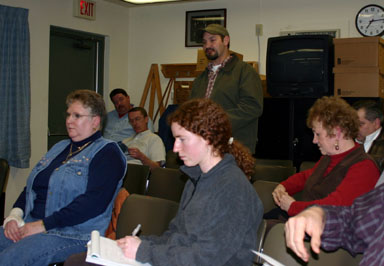 Jamie Arnold addresses the Town Board
Jamie Arnold, a DOT employee, spoke in favor of both annexation and of putting in the DOT facility:
"As a lifelong resident of Dryden and a New York State Department of Transportation employee, I can see both sides of the fence and I can understand the pros and cons.
I really look forward to having the Department of Transportation building here in Dryden, for the sole fact that my wife and kids will have a lot cleaner roads to drive on. The ability of the Department of Transportation to take care of the roads with a newer facility, with a cleaner facility, in a nice area like this, is second to none.
Where I think we're really missing the boat here is if we're worried about traffic when there are so many things that could be dealt with simply by rerouting traffic and making sure that any heavy truck traffic for the Department of Transportation gets access from the Route 13 side. There are so many simple little answers to these things that everybody's so upset and so worried about.
There are a lot of people who work for the state Department of Transportation that don't live in Dryden or in this immediate area. Spencer, the other side of Homer, Tully, Preble, that will most likely relocate here, and that's going to do a lot for our bedroom community and our tax base.
Every time you're at work, and you need something done on your motor vehicle, you'll do it, and catch a ride from one of our friends or something going to work, we drop our vehicle off on the way in or catch it up on the way back, and that's all going to be done in town now, as is all the stuff you do on your way out of town, getting gas and things like that.
There would be an increase in activity at all of our local stores, and all of our local markets as well. I really hope we can understand all the pluses that are coming with this."
After Arnold spoke, the board moved to the Annexation vote. Michael Hattery introduced his set of findings on the annexation, and Steve Stelick seconded them. In the discussion, the board's earlier division remained, with Stelick and Hattery supporting the annexation and Christofferson and Michaels opposing it.

Councilman Hattery reads his proposed findings on annexation
Michaels, while noting that "I'm not opposed to annexation in general," was unhappy with annexing a single parcel in a largely unplanned "spot" annexation. Christofferson, agreeing with Michaels, felt that the board should look at this in a larger context rather than moving forward with a "surgical" annexation. "Since this is one small piece of a larger problem I think we should be looking at, I'll be voting against this."
Michaels noted that it was "the two members who came to the Town Board from the Planning Board" who opposed annexation, though Hattery noted that he had once been on the Planning Board as well.
Stelick noted that this annexation project would get village water across Route 38, opening new possibilities, and that state money, gathered by Senator Seward, was available for the project - but that the money wouldn't be available forever.
After the discussion, Michaels and Christofferson voted against annexation, and Supervisor Trumbull (who hadn't spoken during the discussion, and handed over the reigns of running the meeting to Deputy Supervistor Stelick because of a cold) voted for it. Joined by Stelick and Hattery, as expected, that put the annexation measure over the top.
Posted by simon at March 13, 2004 9:55 AM in Village of Dryden , planning and zoning , politics (local) , water and sewer
Note on photos