Candlelight vigil for Kerry
The Tompkins County Democratic Committee and the Cornell Democrats held a candlelight truth vigil on the Ithaca Commons tonight. We lit candles, marched briefly around the Commons, and heard about the Democratic Headquarters that's now open. In a ferocious political year, it was a nice way to spend an evening.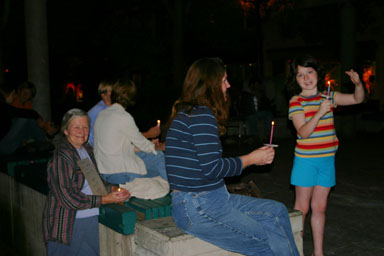 Dryden residents Nancy Suci, Kathy Zahler, and Olivia Lutwak at candlelight vigil.
Update: Former Assemblyman Marty Luster was also taking pictures, and he has posted a gallery.
Posted by simon at September 2, 2004 9:32 PM in politics (national)
Note on photos