Dryden Town Historical Society remembers Bethel Grove
The Dryden Town Historical Society's "Remembering Bethel Grove" session brought people to the Bethel Grove Community Center yesterday to look over exhibits of Bethel Grove history and talk about what happened there and why.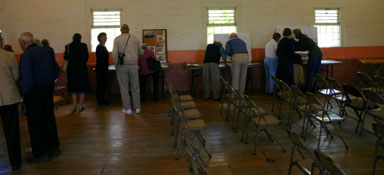 Exhibits of Bethel Grove History.
After a half-hour or so of letting people look over exhibits - and annotate them with Post-It Notes - David Smith of the Historical Society welcomed attendees and then Molly Adams stood up to speak about the community that had emerged between Ithaca and Besemer along Route 79. She talked about the school that had once been the heart of the community, of the building of the community center, and of the dramatic changes to the area as Ithaca has grown out from the city.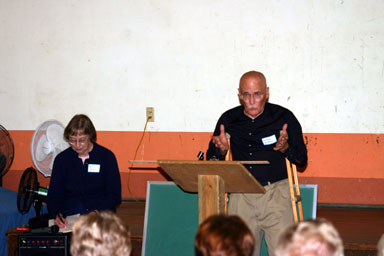 Molly Adams and Bethel Grove Community Center President Roger Yonkin.
Bethel Grove Community Center President Roger Yonkin spoke about the community center and the challenges it has weathered so far, as well as his concerns for the future and particularly for the Community Center Property. After Yonkin spoke, audience participation began, as different members of the community talked about the history, corrected some of the things they'd seen and heard, and told stories about the area's past few decades.
I've put up a gallery of photos from the session. A lot of them are documents and displays. I especially like Verne Marion's carved animals at the bottom left of this display.
Posted by simon at September 20, 2004 8:32 AM in Bethel Grove , history
Note on photos