Hammond Hill trail restored
Ann Leonard, who organized the Hammond Hill Block Party in August wrote to report that the work is now finished:
The work on Yellow One is complete! The DEC has finished spreading gravel where we agreed it needed it, and now, all we need to do is exercise a small amount of patience for about a week to let the gravel settle and harden. Foot traffic is fine already, horses and bikes should wait so that we don't rut and chop it up. There is one spot where I am going to go move a teensy bit of gravel or dirt to cover a tree's roots where they cross the path, and fill a rut that travels down the middle of the trail in one spot, (this is not a criticism! just me being a fusspot) but the whole trail is really lovely now. No more mud!

It truly is beautiful. Come see it! =) I couldn't be happier with the results.

A huge thanks to the guys at the DEC for all their hard work. It is greatly appreciated, and yellow one is now a pleasure to travel on.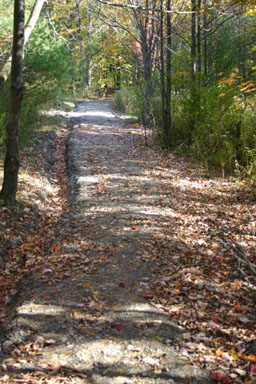 Revived Yellow One Trail in Hammond Hill State Forest.
Posted by simon at October 12, 2004 8:00 PM in Hammond Hill , trails
Note on photos