Horses, history, and Santa Claus
Yesterday's Victorian Winter Festival in the Village of Dryden was a lot of fun, with all kinds of activity from 3:00pm on. Chestnut roasting, open houses at stores, exhibits at Dryden History House, caroling, wine tasting, story reading, and Santa's arrival by ladder truck were just a few of the highlights.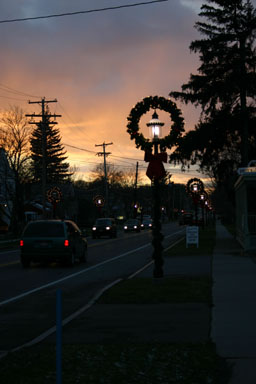 West Main Street, decorated for the holiday.
I started out on the Horse & Wagon history tour, which took riders from the Southworth Library to the site of the old railroad depot while volunteers from the Dryden Town Historical Society (including Laurence Beach and Gina Prentiss) explained what had happened here in the last two hundred years.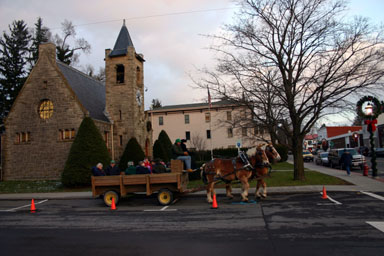 Getting on the Horse & Wagon history tour at Southworth Library.
I found the Horse & Wagon history tour fascinating. It was especially interesting to me to see the village go by at a slower pace, a pace appropriate to the times being talked about. The rise of the automobile and the decline of railroads has transformed the Village in many ways.
A brass band was playing on the Village Green from 6:30 onward, and Santa Claus, as promised, arrived in a fire truck to the delight of a large crowd of children and adults, lighting the village Christmas tree and talking to children.
After Santa's arrival, the crowd went over to the Neptune Hose Company, where food, drink, fun, and games were available.
I've posted a much larger set of photos from last night, as well as a set on the Southworth Library, where I got a library card last night.
Posted by simon at December 4, 2004 10:39 AM in Village of Dryden , recreation
Note on photos