Interior painting completed
Today's the first day in a while that the house isn't busy with painters working on the walls. The exterior's been quiet since last week, as the rest of the stripping and painting won't start for a few months, but the interior's been busy. The livingroom paint is now complete, the bathroom was stripped and repainted, and all we're waiting for is some crown and shoe molding for the livingroom, which should be here soon.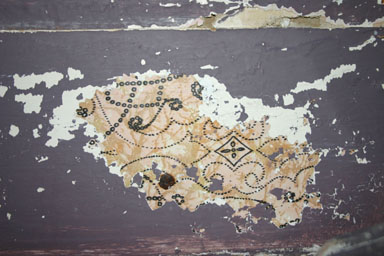 A pattern above the sink, revealed.
It's strange but delightful to have smooth painted walls in here, and Ken and Scott from Perfect Painters did an excellent job. The room is pretty completely transformed. I've updated the gallery of interior photos.
We'd originally planned to have them work on the existing pine trim, but I decided to do that myself, as the finish seems to be alcohol-soluble, and french polishing should work. We'll see!
Posted by simon at January 13, 2005 12:40 PM in my house
Note on photos