Hearing on Comprehensive Plan
This morning's Ithaca Journal reports on last night's hearing on the revised Draft Comprehensive Plan. Residents expressed concern, and some hope, about changes that would eventually come to their neighborhood, and as the article notes, the Dryden Lake area was of particular concern to a number of speakers.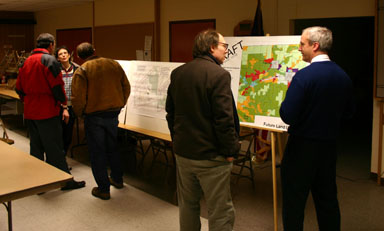 Looking over maps after the hearing. (My photo, not the Journal's.)
One issue the Journal doesn't mention that's coming up quickly is resident Joseph Osmeloski's mention that the golf course on Dryden Lake will be up for public auction March 11th. I hadn't heard anything about the course in a long time.
While Dryden residents were discussing their town plan, residents along Hanshaw Road were discussing the reconstruction of that road from the Town of Dryden line to Cayuga Heights.
McLean is mentioned briefly in Community Awards, where:
Thayer Construction -- Al & Robert Thayer and Dan Wheaton of McLean -- were honored for the contracting work that they have done over the past 10 years for the clients of Better Housing.
The Journal's editorial, while not directly about Dryden, is about something Dryden residents do need to worry about: New York's ever-increasing and ever more creative pile of debt.
Posted by simon at February 18, 2005 8:06 AM in Dryden Lake , Hanshaw Road , Ithaca Journal , McLean , planning and zoning , politics (state) , public finance , roads, traffic, and transit
Note on photos