Land use in the Village of Dryden, 1966
The survey in the 1968 General Plan for the Villages of Dryden and Freeville is stunning work, listing use for every parcel. I'll post Freeville this week, and here's the Village of Dryden for now. This graphic shows an inset concentrating on West Main Street right next to the intersection of Routes 13 and 38: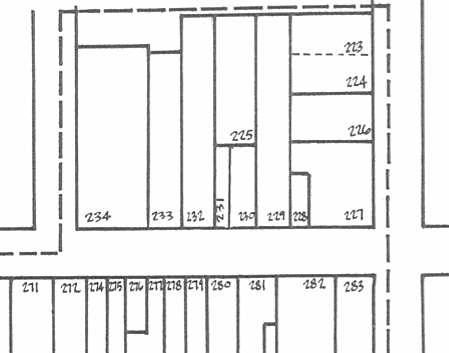 A piece of the map of Village of Dryden Land Use from the 1968 Dryden General Plan.
As there was for the Town, there's also a list of numbered buildings corresponding to the numbers on the map - today's Time Square Park was #227 and #228 - a Service Station and Beauty Salon. #234 was (and is) Southworth Library. You can get a pretty detailed idea of what was here (and what wasn't) in 1966, the year the field survey was done.
The Village has added streets since this map was made - Greystone Drive, Brookside Drive, Goodrich Way, an extension of Hilton Road, Penny Lane, Logans Run, Tannery Circle, and more.
Posted by simon at February 3, 2005 5:50 PM in Village of Dryden , history , planning and zoning
Note on photos