Information Meeting on Town Hall land purchase
Thursday's hour-long information meeting on the land purchase for the new Town Hall brought over 25 attendees to find out what the town's plans were for the 47 acres the Town is purchasing behind the existing Town Hall for $100,000.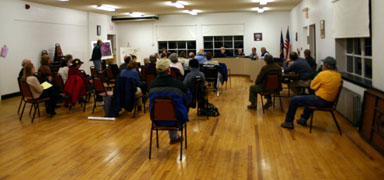 Information meeting on Town Hall land purchase.
Zoning Officer Henry Slater walked attendees through the map. The town is purchasing part of a 73-acre parcel, including 20 acres of wetlands and about 26 acres of usable land. Those 26 acres will include a buffer separating the town's property from the rest of the parcel, which may eventually be developed for residential use, and contains several possible sites for a new Town Hall, which will likely be around 11,000 square feet. (The current town hall is 4,000 square feet, not all of which is usable.)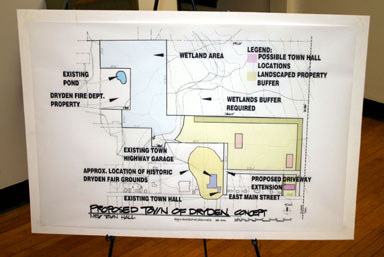 Map of Town Hall land purchase.
ELM Acquisition Corporation will be retaining land further behind the proposed town hall area, as well as a strip for access from Route 392 along the eastern boundary of the Village of Dryden.
Town resident Robin Hadlock Seeley asked where the money for this was coming from, and Town Attorney Mahlon Perkins replied that the money for the land purchase was coming from surplus funds from last year's budget. The new town hall itself will be built with the roughly $2.5 million the town has been saving since 1989 for thiis project. (Using reserve funds requires a public hearing and may be subject to a referendum.)
There were a number of questions about the wetlands and what could be done with those. Town Environmental Planner Debbie Gross has been looking into the rules for things like trails and boardwalks, and found that they can be done, though it requires a lot of careful planning to avoid sensitive habitat and cautious use of materials, like the black locust instead of pressure-treated lumber that was used at the O. D. von Engeln nature preserve in Malloryville. The Cornell Lab of Ornithology was cited as another possible example.
The historical nature of the area came up a few times, as the Town offices and highway department building are on the former Dryden fairgrounds, famous for their huge (30,000+) crowds and 12-sided barn. County Legislator Mike Lane noted that much of the old racetrack and some old building piers still exist. (After the meeting I suggested making the new town hall 12-sided, but somehow I think a model or a marker is more likely.)
Environmental Planner Debbie Gross also discussed preliminary work the town is doing toward making the town hall more energy efficient. New York State, through NYSERDA, has programs for training architects working on municipal projects as well as grants that will cover up to 60% of the added cost of making new municipal buildings energy-efficient. Architectural work is just getting started, though a group of town employees and officials have toured the Lansing, Groton, and Virgil town halls, all of which are relatively recent.
Recreation came up a number of times, with one attendee suggesting that "I can fit quite a few soccer fields in there, maybe a baseball diamond." Town Councilman Mike Hattery was cautious about recreation purposes, noting the upcoming recreation study, and pointing out that the additional land is only adding 1 or 1.5% to the overall cost of the projects. Councilman Marty Christofferson saw the purchase as an "opportunity to get a large chunk of land" because "a small piece would cost close to what a big piece would cost," but the "main priority was to build a new town hall."
The purchase isn't complete yet, as the seller has to complete a survey of the land, but the initial contract is set up. When the board is ready to start work on the new town hall building itself, there will be additional public hearings and opportunities for comment.
Posted by simon at March 6, 2005 12:41 PM in Village of Dryden , politics (local) , real estate , recreation
Note on photos