Finger Lakes Railfair
There are still a few hours to get to the Finger Lakes Railfair, open today until 4:00pm in Lansing at The Field (map), sponsored by the Cornell Railroad Historical Society.
I had a good time wandering, though I only bought a book, and saw some great things. Here are two of the more striking pieces I saw, though there were all kinds of interesting displays and things for sale.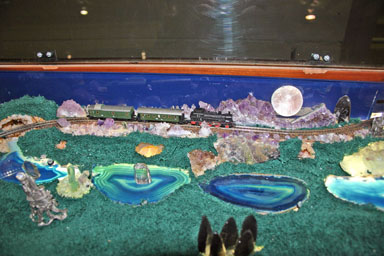 Will Parker's Z-Scale crystal railroad.
For a broader perspective, hurry down there or visit the gallery of photos I took this morning.
Posted by simon at April 24, 2005 12:51 PM in excursions
Note on photos