Monkey Run mystery
While I was assembling the presentation for last Sunday's Varna Then and Now session, I went through a lot of maps of the area over time. One of the largest changes I noticed in those maps was the 19th century growth and 20th century disappearance of an area along Monkey Run Road (now abandoned) and north of Fall Creek. It's roughly in the middle of the map below.
If you need help lining up this map with current roads, the diagonal in the bottom half of the map is present-day Route 366, while Hanshaw and Lower Creek Roads go across the top. Baker Hill Road is in the bottom right.
The map shows Monkey Run road continuing through to the modern intersection of Hanshaw and Lower Creek Roads, not just the short segment that exists today. There's a second branch of it - the right hand side of the "Y" - that crosses Fall Creek twice, and there's a road that goes from near the Baker Hill Road/366 intersection to this now completely vanished branch of Monkey Run.
While there aren't a lot of houses on these roads, the area is much more densely populated than most of the surrounding farmland, and there's a grist mill to the northwest of Fall Creek. (Mrs. J. McDonald, F. Whitman, W. W. Sherwood, C. O'Leary, W. Norton, and the grist mill are all in the area that's gone today.) Three bridges would not be a minor road-building issue, especially given Fall Creek's capacity.
It's all vanished today, largely into the Monkey Run Natural Area, which "was acquired over the years of 1908-26." All that seems to be left (though I'll go looking for more) is the steel remains of a single bridge.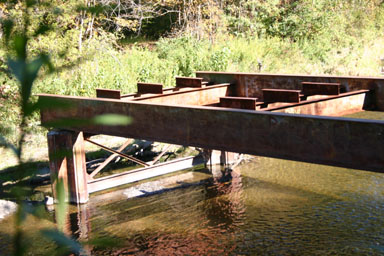 Remains of the bridge at Monkey Run Road.
If anyone has more information about the sudden decline of this area in the early 20th century, please let me know through the comments below.
The map is from Goodrich, George B. The Centennial History of the Town of Dryden, 1797-1897. Dryden: Dryden Herald Steam Printing House, 1898. Reprinted 1993 by the Dryden Historical Society. (The Dryden Historical Society, which sells this book, may be reached at 607-844-9209.)
Posted by simon at April 24, 2005 7:50 AM in Hanshaw Road , Varna , history
Note on photos