County Legislator Mike Lane's re-election run
I saw County Legislator Mike Lane this morning at the Memorial Day Parade, and remembered that I hadn't given his re-election announcement the kind of coverage I'd given fellow Legislator Martha Robertson's press conference, and it looks like I'll be writing another of these stories tomorrow for Mike's challenger, if WHCU's promise of "another Morning Report political declaration!!!" holds up.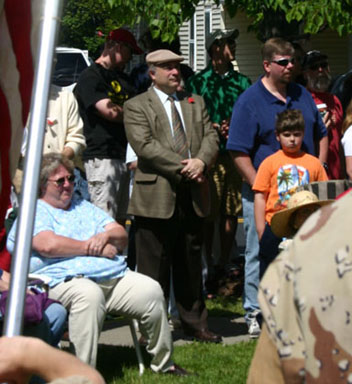 County Legislator Mike Lane attending today's Memorial Day ceremony.
Mike has been a County Legislator since 1993, and is running for his fourth term. He's the Vice-Chair of the Legislature and Chairman of the Tompkins County Industrial Development Agency as well as the liaison with Tompkins-Cortland Community College.
Looking beyond his recent accomplishments, Mike seems to know everyone in Dryden. He tells stories of his newspaper delivery days when many of the people he works with now were his customers, and has lived in the Village of Dryden for most of his life. He spent time on the Village Board of Trustees and as Mayor of the Village before moving to the County Legislature.
If you'd like to hear what Mike has to say for himself, check out his press release on his re-election run (87KB PDF, 112KB PDF selectable).
I don't think, given the subtitle on this web site, that it will come as any surprise to readers that I heartily endorse Mike in his run for re-election. As editor of this site, I've also been pleased with his ability to keep Dryden in the news by presenting strong and often dissenting views at the County Legislature, especially on spending and tax issues.
To borrow a document from Martha Robertson's announcement, Mike was the third-most fiscally conservative legislator (45KB PDF) in the 2005 discussions. (Robertson was 6th, but both of these Dryden Democrats were more fiscally conservative than any of the four Republicans on the Legislature.)
It should be an interesting political year.
Posted by simon at May 30, 2005 5:35 PM in politics (local)
Note on photos