Gwen Wilkinson submits petitions for DA race
I went down to the Board of Elections today, where District Attorney candidate Gwen Wilkinson gave a brief press conference as she turned in the signatures to put her on the ballot in November.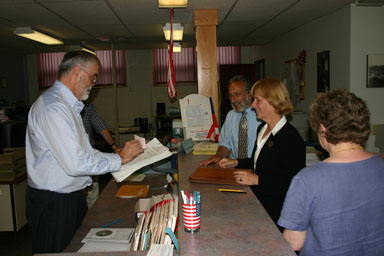 Election Commissioner Steve DeWitt examines District Attorney candidate Gwen Wilkinson's petitions, while former Assemblyman Marty Luster and Democratic County Chair Irene Stein look on.
I recorded Wilkinson's comments, though sadly my voice recorder ran out of batteries near the end.
Good morning everybody! Thanks for coming.

We're here today for the filing of the petitions, and I am delighted to announce at this time that we have 2,483 signatures [applause] for the Democratic line, and we have substantially more signatures than is required for the Working Families Party line. [applause] My name will appear on both those ballot lines in the general election.

I'd like to take this opportunity to thank everyone - the volunteers who carried the petitions, the people who signed the petitions, for their support for my campaign.

It is clear from this overwhelmingly large number of signatures that there is a groundswell of support for this campaign. I myself did a lot of walking, passing the petitions, and the feedback from the voters is clear.

They are in favor of improving the prosecution against violent crime, and they are in favor of fighting addiction-related crime through the use of drug courts.

I will be looking forward to speaking with all of the voters more as the election cycle progresses, and I'm pleased to be submitting these petitions here today. Thank you very much.

[Inaudible question from Geoff Dunn of WHCU - more specific about violent crime.]

Specifically, with respect to violent crime, people are discouraged, upset, even outraged at the failure to prosecute crimes of domestic violence and child abuse by the incumbent. On the subject of addiction-related crime, there is overwhelming support in the county for the use of drug court as part of the sentence for addicted offenders. There is overwhelming support for the need to wipe out addiction and the crime it generates. People are clearly tired of revolving doors to the prisons, without getting treatment.

[Voice recorder battery dies.]
It's shaping up to a great race for D.A., as Wilkinson challenges 16-year incumbent Republican George Dentes.
Posted by simon at July 14, 2005 12:57 PM in politics (local)
Note on photos