Visiting an artists' colony
I've written a few times before about the Saltonstall Foundation, the arts colony on Ellis Hollow Creek Road, but I'd never actually been there before this afternoon. They held the second of their Open Studio Sundays, showing off the work that Saltonstall Fellows have accomplished in their month of residency at the colony. They started in the main building with snacks and conversation, before moving to a tent for readings by poet Lynne Schneider and writer Laurie Stone.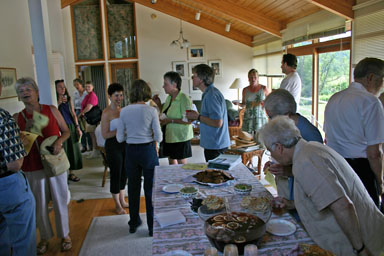 Opening the Studio with food and conversation.
After the readings, the group broke up to explore studios. The artists were in their studios to show their work and talk about what they had done and why. Joseph Hart and Sharon Moreau discussed their paintings with vistors, while photographer Laurie Stone Gina Murtagh showed off a miniature book she had created.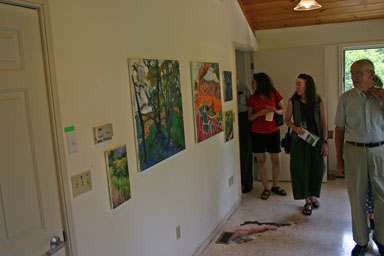 Exploring Sharon Moreau's studio and paintings.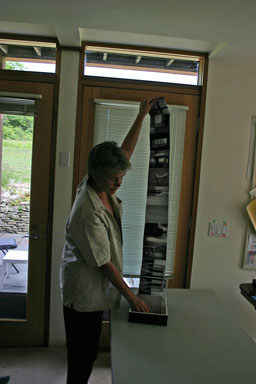 Photographer Gina Murtagh shows off a book of photos she created.
Saltonstall Fellows get to spend a month at the colony, focusing on their work while taking advantage of the facilities and the surroundings. I felt a bit intimidated taking photos of an arts colony in memory of someone who was a considerable photographer herself, but I still took enough pictures for a gallery of photos of the colony that should give you a much better feel for the place and the event.
This was the second of three Open Studio Sundays this summer. The next one will take place Sunday, August 28th, from 2:00pm to 4:00pm, following a similar format with the fellows for August. They'll also be holding literary salons with readings over the fall and winter. The colony is at 435 Ellis Hollow Creek Road (map).
Posted by simon at July 24, 2005 5:37 PM in Ellis Hollow , art , photos
Note on photos