The O.D. von Engeln Preserve
The Town of Dryden has a small but beautiful nature preserve, one that so far as I can tell relatively few people have discovered. The O.D. von Engeln Nature Preserve, owned and operated by the Nature Conservancy, includes 1.75 miles of trails and a kiosk explaining why the area is so special, tucked away off West Malloryville Road (map).
Photos can't really do it justice - there's something beautifully harmonious about the different habitats packed into a small space, and the camera sees the contrast between sunlight and shadow differently. Still, here are a few attempts.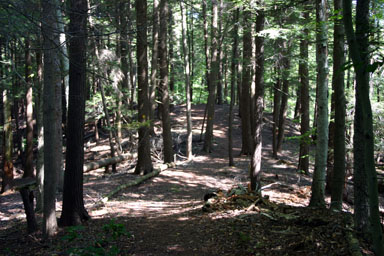 On top of an esker at the von Engeln preserve.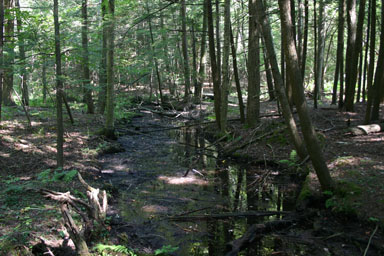 A spring-filled stream through the swamp.
If you'd like to see more, I've posted a gallery.
The von Engeln preserve is open to the public, but for pedestrians only. No motorized vehicles, horses, bicycles, pets, fishing, hunting, trapping, or camping are allowed. The path is clearly marked and well-developed, but visitors need to stay on the trails to protect the rest of the preserve. I was there after a very dry summer, and I'm guessing it's usually wetter than this, but much of the trail is elevated or boardwalked to avoid muddy natural areas.
The glaciers left Dryden with some impressive terrain. While most people think of hills and lakes, this preserve shows how even smaller features can have tremendous beauty.
Posted by simon at September 15, 2005 12:19 PM in McLean , natural areas , trails
Note on photos