Town Board approves budget
The Town Board approved the budget on Thursday night with minor corrections (which I've added to the list). The budget has a property tax rate of $1.436410 per thousand, down from $1.477628, for a decrease of 2.8%, while the tax levy climbs from $912,241 to $958,525, for an increase of 4.8%.
At the meeting they also approved the special permit for Autoworks to use the old F&T Distributing Building. David Moore, who had strongly opposed it in September, wasn't there. The board gave official support to a grant application by Neptune Hose Company, and briefly discussed some possibilities for a skate park, noting safety and liability concerns. They also talked about a town resident with a $31,000 sewer bill because of a long series of meter misreadings, but took no action after concluding they had a year to pay it.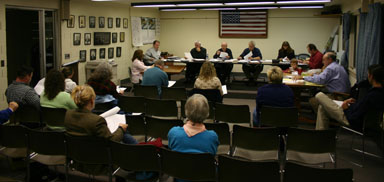 Town Board discussing Autoworks special permit.
Also, there was discussion of a preliminary report on the Dryden-Freeville trail, which I'll need to get and post here. It sounds like the grant will likely cover only from the current northern end of the Jim Schug trail to Springhouse Road. That would extend the trail while avoiding a continuing discussion with a landowner on the other side of Springhouse Road.
Posted by simon at October 29, 2005 5:23 PM in politics (local) , public finance , trails , water and sewer
Note on photos