Mike Lane concedes
One of the problems with writing this blog is that I frequently have to write on news that saddens me. Tonight is definitely one of those times.
County Legislator Mike Lane conceded the District 14 election to Town Board member Mike Hattery tonight at the Town Board meeting.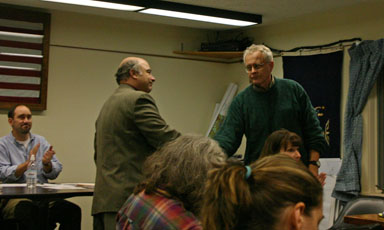 Mike Lane and Mike Hattery shake hands after Lane's concession.
I've posted Lane's concession statement (54KB PDF; 91 KB selectable), and Hattery thanked Lane for his years of public service afterward.
(The current vote is 865-845.)
Posted by simon at November 10, 2005 10:18 PM in politics (local)
Note on photos