Visiting Stickley
I grew up in a city (Corning) full of factories, and I know too much about New York State's rich industrial history to be happy about the steady decline we've seen here over the course of my life. Every now and then I find a company thriving in the midst of all of this, and I'm happy to report on one about an hour north of Dryden. They even offer factory tours, if you want to see it with your own eyes.
Stickley has a distinguished history, tracing its roots back to the family companies that put Arts & Crafts furniture on the map, as well as purveying ideas that had a major impact on architecture, textiles, and all kinds of fields. After Arts & Crafts went out of style, they had prospered for a long while with colonial furniture, but had dwindled down to 22 employees by the mid-1970s.
Unlike many of their peers, however, Stickley roared back. The company now employs around 1500 people, many of whom work in the Manlius factory. I took their factory tour with my parents a couple of weeks ago, and was highly impressed. George Webster, salesman and tour guide, told our group of the history of the company as well as its recent development before taking us into the factory itself.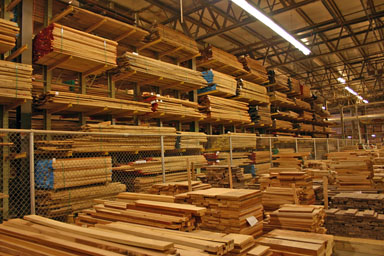 One part of lumber storage at the Stickley factory.
After visiting the small shop where they create samples and custom furniture, we stepped out into the lumber storage area, which is vast. They use approximately 7 million board-feet of solid wood each year. From lumber storage we move into the area where they were grading lumber, then sorting it and gluing it into panels.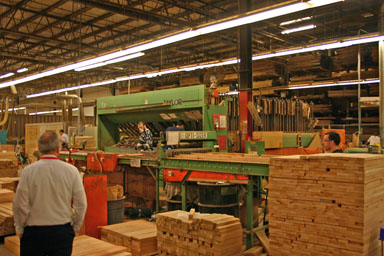 Machine-sorting lumber by size.
Next we saw the amazingly automated process Stickley uses to cut complex patterns and joinery into wood. (They also have simpler machines for basic joints like mortises and tenons, but these machines automate some very complex steps.)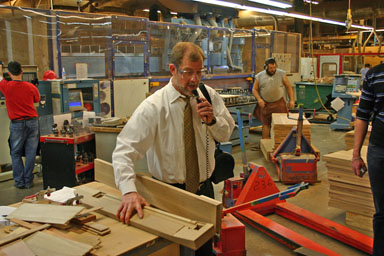 Complex cuts for the arm of a Morris chair, created with automated routing.
After all the parts are cut and sanded, assembly is the next big project. (Note that pieces are assembled as people order them - Stickley tries to maintain the smallest inventory of pieces possible.)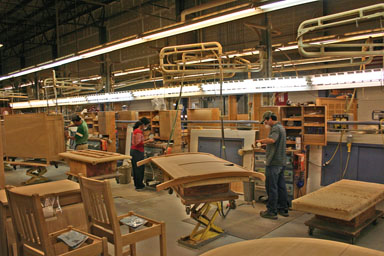 Assembling a bed, a frame, and a case.
After assembly, finishing is the next huge task. Stickley doesn't use the (dangerous) ammonia-fuming process that was once the hallmark of Arts & Crafts furniture, but instead produces similar results with dyes and finishes.
After the finishing process, the pieces are complete, except for upholstery.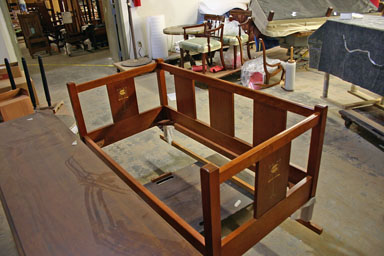 A loveseat, minus upholstery.
Stickley has a small upholstery shop in the factory (which we didn't see) as well as a larger upholstery factory (and I think a leather factory) in North Carolina. They've also just opened a plant in Vietnam, but their plans overseas are interesting for a lot of reasons. They chose Vietnam in part because many of their workers in Manlius were from Vietnam, and workers who wanted to move back to Vietnam got to keep their US salaries. They're doing a new line of furniture there, not moving their existing work.
It's clear that the Audi family (who now own and run Stickley) intend to keep this going for a long long time, and in upstate New York at that. They seem to keep pouring the profits back into the company, buying more and more equipment for processes that can be automated while also ensuring that skilled craftsmen work on the processes that require human flexibility and attention. They don't seem willing to compromise on quality at any level. While that does drive prices up, they seem to have made that approach work.
If you'd like to take a factory tour, they start at 10:00am on Tuesdays at their factory at 1 Stickley Drive in Manlius. You can see their furniture in Fayetteville Towne Center, and sometimes at the Pyramid Mall in Lansing. (Their factory sale of samples and other damaged goods sometimes happens in the old Ames. They had one recently, but the furniture is still there, so maybe there will be another one.)
If you'd like to see more pictures, I've posted a gallery, or you can visit Stickley's own factory tour site.
Posted by simon at December 12, 2005 12:12 PM in excursions , photos
Note on photos