Tytler announces Congressional run in Dryden
The Ithaca Journal has an article on former Cortland Mayor Bruce Tytler's run for Congress. Tytler toured the district for his announcement this weekend, visiting Rome, Utica, Oneonta, Norwich, Auburn, and Dryden, where about fifteen people braved the cold and wind to hear him speak.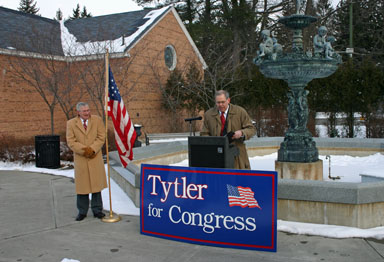 Bruce Tytler announces his run for Congress on the Village Green in Dryden.
Tytler spoke yesterday in front of the fountain, talking about the needs of this Congressional district, arguing that we need to better than "one of the least bad" Republicans, and comparing the need for textbooks in past classrooms with the need for computers in today's classrooms.
Tytler grew up in the Town of Oxford, and is a past alderman and mayor of the City of Cortland. He is currently the Chairman of the Social Studies Department at Homer High School, and serves on the Boards of Directors for Loaves and Fishes and Cortland Area Communities That Care.
On the opinion page, Stacey Crawford of Better Housing for Tompkins County writes about the need for affordable housing in Tompkins County, and notes that:
Later this spring, we will hold meetings in five area communities - Lansing, Dryden, Groton, Danby and Newfield - to provide information to concerned citizens on homes within reach and get input on what might fit in their communities.
Posted by simon at February 13, 2006 8:33 AM in Ithaca Journal , politics (national)
Note on photos