A proud predecessor passes on
I'm sad to report that A.K. Fletcher, publisher of the Dryden Rural News, painter, writer, and yes, a proud Democrat, passed away this morning in Florida. I'm very glad to have met him last summer when he was visiting, and the Rural News is a model I've kept in mind while working on this site.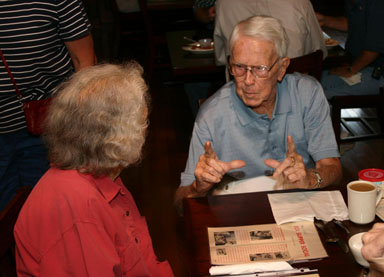 A. K. Fletcher talking with Elsie Gutchess.
Fletcher, usually called Fletch, was 98. If you need some entertaining reading about life in Dryden (and elsewhere), the Dryden Town Historical Society has his memoirs (and many of his paintings).
I hear there will be an obituary soon and a service in September.
Posted by simon at July 14, 2006 5:36 PM in in memory , why
Note on photos