Cheepings and peepings
It seems that the stories I post which include farm animals on my property are the ones I hear the most about, whether it's last summer's plowing of the back yard or my more recent piece on six chicks coming home, hopefully to provide us with lots of eggs in the future.
They're no longer the fuzzy little yellow critters they were before.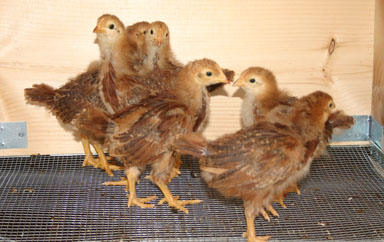 Chicks growing up, gaining feathers.
They've been growing feathers since about two days after we got them, and they've become much larger. They seem pretty happy in their box, running around a lot of the time, sleeping other times. They're definitely eating and drinking more than they were.
Spring is definitely interested in the chicks, and sometimes whines because she can't get at them through the box.
Rowena was also very interested in the chicks.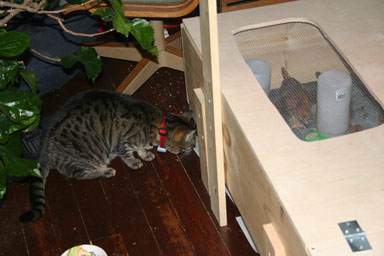 Rowena looks for a way to visit..
I think our pets may have different hopes for these chicks than we do. Hopefully they can co-exist, but just in case (and for other convenience anyway), the chicken coop will be out of the range of the cats and dog.
Update: For more chicks and chickens, see Dryden Daily KAZ, and Five Wells often has chickens as well.
Posted by simon at April 27, 2007 12:48 PM in permaculture
Note on photos