Development on 13
It's been a busy couple of days, and this article is playing catch-up.
Yesterday's Ithaca Journal reported on Thursday's Dryden Town Board meeting, including the questions over Advanced Design Consulting's plans to move from Lansing to a much larger facility in Dryden on Route 13 north of the Village. ADC didn't have a current set of plans, and while it sounds like things are moving forward, not everyone was happy about it. Dryden Book Barn owner and potential neighbor Vladimir Dragan questioned the plan for potential traffic, flood, visual, and development impacts.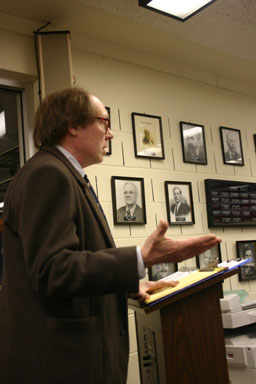 Dryden Book Barn owner Vladimir Dragan objects to ADC's plans for a manufacturing facility and offices on Route 13.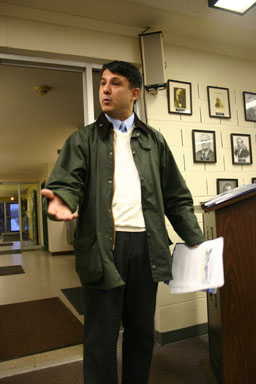 Advanced Design Consulting owner Alex Deyhim talks about ADC's hopes.
You can see a fuller report of the meeting from Town Board member Mary Ann Sumner and then an expanded version of that report from fellow Town Board member David Makar.
In this morning's Journal, there's a Laurel from Dryden Elementary teacher Anne Marie Streeter to those who helped out with the Dr. Seuss Wild About Books Bookfest.
There's also an article on local impacts of global warming.
Posted by simon at April 14, 2007 10:39 PM in Ithaca Journal , planning and zoning
Note on photos