Won't you be my neighbor?
I was surprised last week to see an "Open House" sign on my neighbor's house. I was coming back from bicycling today and saw the sign again, so figured I should check it out. Steve Moraff was there, happy to talk about the house he's leaving behind as he moves to downtown Ithaca.
(He also let me take a lot of photos to post here. I don't do this for every house sale in Dryden - fortunately - but it seemed like a nice thing to do for a neighbor, and an interesting post besides.)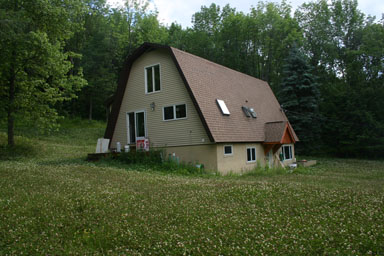 My next-door neighbor's house, at 1251 Dryden Road.
The house was originally built in the 1970s, and looks a bit like a barn from the road. Steve's had major work done to the house, as I heard a few years ago (maybe at this?) from his contractor, Milan Croata at Tile-Tec in Freeville. Croata had clearly enjoyed the work he'd done in the house, from tile surfaces to drainage changes.
All of the floors in the house are hardwood or tile. Steve wanted to avoid volatile organic compounds (VOCs) which can cause breathing problems, and they just look good. He also "ultra-insulated" the house, adding layers of insulation under the roof, in the walls, and in the basement. Windows and sliding doors provide lots of ventilation for when you want that.
The bathrooms especially got a lot of work. I think he called it 2.5 bathrooms, but one of the bathrooms includes both a steambath and a whirlpool bath.
The house is much larger than mine - 2900 square feet on three levels, including an incredibly built-out basement with immense closet space. The house's lot is similarly larger, around 2 acres. He expanded the lawn area into the slope, putting down a clover mix that looks nice but doesn't need mowing. He also built a much larger driveway for the RV he used to have, so the house is pretty well set up for entertaining. (Mine definitely is not!)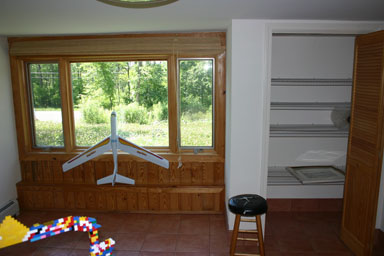 View from basement office looking out toward 366.
It was hard to capture the house in pictures, especially given the bright day adding too much contrast to everything. He's almost but not quite cleared out of the place. I've posted a full gallery if you'd like to look further. (He's almost but not quite cleared out of the place.)
If you're interested in the house, contact Steve. He sounds like he'd be happy to show the place off to possible buyers. (Just watch out for the neighbors to the east. They tore up their lawn and put in a garden, and run a website on Dryden...)
Posted by simon at June 30, 2007 10:09 PM in real estate
Note on photos