Visiting New York City
When I was in college, I learned pretty quickly that I should say I was from "beautiful Upstate New York" instead of just "New York", because the question "Which borough?" got annoying quickly. Still, I have connections to the place - I lived on the western edge of Manhattan from 1993 to 1996, and my brother lives in Brooklyn. I used to go there fairly frequently, for conferences and presentations, but it's been at least three years since I'd been there.
When Angelika needed to get her passport updated for her new last name, she visited New York for a day, taking an early bus, visiting the German consulate, and returning that evening. The passport had arrived and we needed to go to get it - both of us, with my passport - so we left the Ithaca Bus Station yesterday morning at 4:50am and returned around 9:40pm. A round trip cost $96, and we didn't have to deal with New York traffic. (By air from Ithaca to LaGuardia looks like $385.)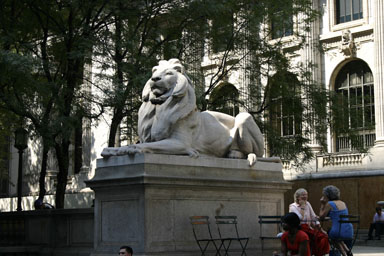 Lion at the New York Public Library.
We went to the consulate first, where everything went smoothly. Afterwards, we walked around Manhattan, walking through midtown to a favorite restaurant of mine, then further downtown where I'd lived, worked, and gone to graduate school.
A definite highlight was lunch. The eating local rules don't apply when traveling (though we'd brought Sansa apples from Cornell Orchards), and we visited one of my favorite restaurants, the New York Kom Tang Kalbi House, on 32nd Street between Fifth and Sixth Avenues. 32nd Street seems to be the heart of Manhattan's Korean neighborhood, and has lots of restaurants, but I've always liked this one.
I've posted a gallery of photos just on the restaurant if you're interested. It was an extravagance, but a delicious one. (There are Korean restaurants in Ithaca, but nothing so far as I know quite like this.)

Construction elevator, silhouetted.
I took about 300 photos, trying to convey walking through Manhattan, kind of like I did for Montreal. That's too many for easy browsing, so here are links to some highlights:
I'll be writing more about New York City soon - less as a tourist, more as someone figuring out why Upstate doesn't work the way it used to.
Posted by simon at August 30, 2007 5:09 PM in excursions
Note on photos