Building a chicken coop
I'd been planning since July to take a week off and build a coop for our chickens, but that week never arrived, and it's getting cold now. I finally broke down and bought a Chick-N-Barn kit. The kit was easy to assemble, requiring only about a half hour's work with a screwdriver. The more difficult part, of course, was preparing the site, and adding a few missing parts, especially a floor, to the kit.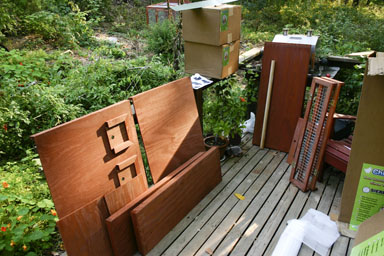 Chicken coop parts on the porch.
Installing the floor - hardware cloth - was probably the hardest part of this project, making me very glad that I had a pneumatic stapler readily available. If I hadn't had that, I probably would have built some kind of separate floor frames, which (probably) would have had the advantage of being removable for cleaning. I filled the area under the coop with mulch and soil, in the hopes that whatever the chickens push through over the winter will help enrich that with compost. I'll shovel it out in spring.
I also added some latches to the coop doors, hoping to keep raccoons, foxes, and other predators away. The coop seems very sturdy, and should keep the chickens in and other creatures out, but I wanted a bit of extra insurance.
We've been referring to this coop as the chickens' "winter palace", replacing the simple fenced-in area with plastic table that they'd enjoyed since June. That yard is now empty, waiting for next year's chicks. Supposedly the coop will hold ten chickens, though it seems a bit tight to me even for the five we have now. I guess I've just gotten used to seeing them in a bigger area.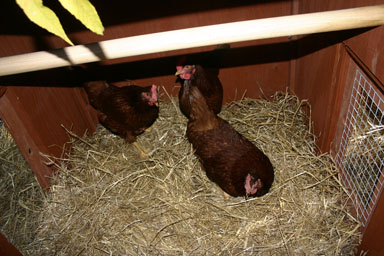 Chickens exploring their new coop.
If you're interested in more construction detail, I've posted a photo gallery of the building process.
Next year's major home chicken project will be a lot of fencing, to give the chickens access to parts of the garden - like the compost heap - where they're welcome - while keeping predators away.
Posted by simon at September 24, 2007 5:50 PM in my house , permaculture
Note on photos