Ellis Hollow Fair started well, continued through rain
This Saturday's Ellis Hollow Fair got off to a bright and sunny start, filling up both the main parking area and the overflow parking area as people came to enjoy the annual event.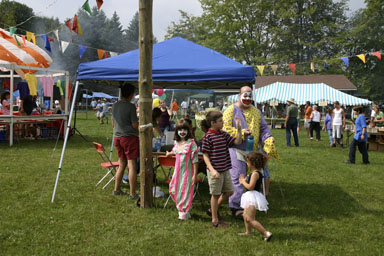 Clowns at the Ellis Hollow Fair.
The weather was not kind for long, however, and around 2:30pm the sky opened up in a downpour. I stayed under the tent at the joint Democratic-Republican voter registration booth we held, watching the rain and hoping it would pass, but it took a long while to go away. The fair continued, though slightly damp.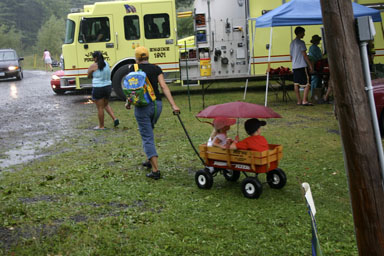 Escaping the rain at the Ellis Hollow Fair.
Angelika took a lot of photos of the sunny part of the fair, and I added some of the rain. They're all available in this gallery of pictures from Saturday.
Posted by simon at September 12, 2007 12:57 PM in Ellis Hollow
Note on photos