It's campaign season
The Journal seems obsessed with the Town of Ithaca Supervisor's race, but there's much more going on in Dryden this year. We have contests for Town Supervisor, Town Board (two seats), and Town Justice.
| Position | Democratic Candidate | Republican Candidate |
| --- | --- | --- |
| Town Supervisor | Mary Ann Sumner | Cheryl Nelson* |
| Town Board | David Makar | Stanley Marcus* |
| | Joseph Solomon | Walter Keeney* |
| Town Justice | Jason Leifer | Christopher Clauson† |
| Town Clerk | | Bambi Hollenbeck* |
* - Also running on All the People line
† - Also running on Independence line
David Makar's signs from last year came out of basements and garages to make a return appearance along roads, and now there are more signs for the Democratic candidates.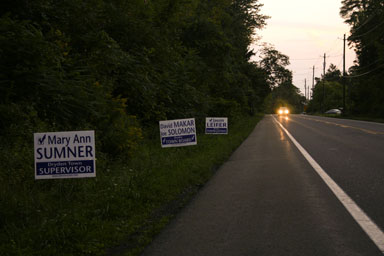 Campaign signs in front of my house.
Both parties shared a voter registration booth at last Saturday's Ellis Hollow Fair, and there will be a number of meet the candidates events to come, including some early ones. The first will be at the Dryden Fire Station on Tuesday, September 25th, and the second will be at the Etna Fire Station on Tuesday, October 2nd. Both will be at 7:00pm, and I'll have more details once we've sorted out format.
For more information on candidates, you should visit the Dryden Democrats and Dryden Republicans sites. I'll have more here in the near future, though unsurprisingly I'm leaning strongly Democratic.
Posted by simon at September 11, 2007 8:34 AM in politics (local)
Note on photos