Arcuri visits Dryden
I couldn't make it, but today's Ithaca Journal has an nice article on Congressman Michael Arcuri's visit to the Dryden Town Hall on Saturday. I'm especially happy to see that a lot of the folks quoted in the article are from Dryden and Freeville. Impeachment seems to have been the big question, along with health care.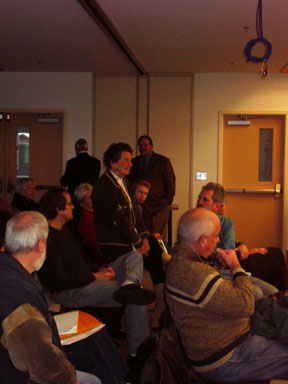 Martha Ferger asks Mike Arcuri about Iran (Photo by Kathy Zahler)
(I'm sorry to report that I hadn't listed this event here - I learned Tuesday that it was happening, then later that it was cancelled, then it was happening again...)
On the opinion page, John Steele of Dryden writes to express his shame over Dryden's choice in the recent Supervisor race.
Posted by simon at November 19, 2007 8:56 AM in Ithaca Journal , politics (national)
Note on photos