Halloween parties
I was a little concerned when I heard that the Dryden Community Cafe open house was Halloween night, at the same time as the costume contest and firetruck rides at the Neptune Hose Company. I needn't have worried - both events were busy, and some people got to both.
The Community Cafe included a "lock-up" of the Dryden Elementary and Middle School principals to raise money for the cafe, complete with the perpetrators being brought in by the Dryden Police:
It was great food and great fun, with a large and changing crowd. They're still working on putting the place together, but they've made a great start. It's also bigger in there than I remember, which should be great.
Over at Neptune, Mike Lane hosted the annual costume contest, with Mary Ann Sumner and Mary Ellen Bossack, Marlene Luss as judges. Folks from the Dryden Veterans Memorial Home were serving coffee, cider, donuts, and candy.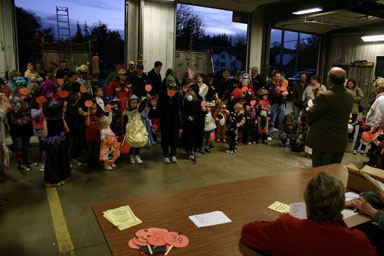 The costume contest at Neptune Hose Company.
They were both great events. Want to see more? I've posted galleries, one for the Community Cafe and one for the firehouse celebration. It also looked like lots of kids were trick-or-treating in the village.
Posted by simon at November 1, 2007 12:50 PM in Village of Dryden , recreation
Note on photos