Pledging allegiance
I'm glad to see today's Ithaca Journal editorial on the Pledge of Allegiance, which I think makes a crucial, if perhaps understated, point in its final paragraph, especially the last sentence:
The beauty of the First Amendment is that it allows the public to debate issues, since most speech is protected. Sumner's critics have every right to call her actions into question, but that doesn't mean that they are right. Calling into question her patriotism is a bit harsh, especially when you consider she'll take an oath of office soon to uphold the law and do the best she can for Dryden. Dryden would be better off judging her by her actions as a government official rather than what she does during the brief period at meetings when the pledge is recited.
I'd go beyond calling it "a bit harsh" - I'd call this campaign deeply unethical, an effort to smear Sumner's character to avoid having to talk about how much she offers the people of Dryden. (The Journal's editorial never gets to the lies about the POW/MIA flag or the questions about God, though, so maybe they just don't know.) Unfortunately, a couple of decades of this at the national level seemed to inspire local Republicans to think this kind of campaign is acceptable at the local level. I've talked before about why I think they found it necessary.
Mary Ann Sumner emphasized - from the first time this question was asked - the importance of her oath of office, to uphold the Constitution on which this country is built.
It's a bit strange, though - the Republicans seemed to try to keep their candidates free of this particular conversation, with supporters talking about it at candidates forums but never the actual candidates. It became clear that the Republican party was in on it when Republican Chair Jim Crawford's letter to absentee voters came out, sent to both Democrats and Republicans. It's kind of a strange letter, bringing up the Pledge of Allegiance issue in the middle of a paragraph in the middle of a page that started out sounding cheerfully not very partisan.
I'd heard rumors of a truck driving around with signs saying "I Pledge Allegiance and I Vote - for Cheryl Nelson", but I hadn't actually seen it until the morning of election day. I was driving around putting up "Vote Today" signs when I came upon something new - a Republican rally at the 13/366 intersection. Republican Chair Jim Crawford, Supervisor candidate Cheryl Nelson, Town Board candidate Walt Keeney, Amos Nelson, Brent Nelson, and a few other folks I didn't recognize were there with signs, including the one I'd heard about.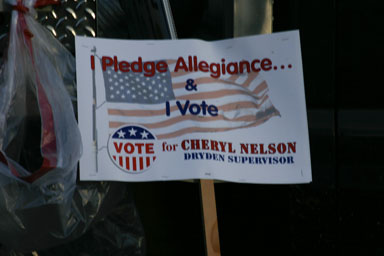 Nelson sign, election day - "I Pledge Allegiance, & I Vote".
Three Republicans were holding signs right in front of a large Jason Leifer for Justice sign on private property, so I got out and told them to leave. Walt Keeney offered me donuts, but departed. One, Brent Nelson, refused to leave, saying that it wasn't my property. After a call to the property owner, he finally left, leaving me with some not so cheerful insults and something about my head and my ass. (Note for the future: telling a computer book editor that he's a "pencil neck geek" isn't much of an insult.)
I came back with my camera, recording their demonstration for the Dryden history books.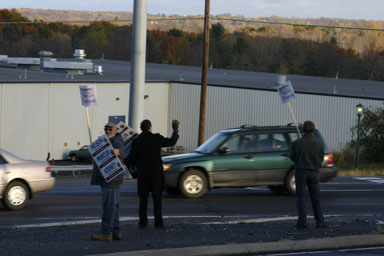 Amos Nelson, Republican Chair Jim Crawford and candidate Walter Keeney at 13/366.
A few of them came back for the evening rush hour too, but I had better things to do at that point than take more pictures.
Cheryl Nelson's parting Shopper ad makes it clear that she was proud of the pledge campaign and her son's behavior on election morning, so I think it's safe to say that they abandoned keeping the candidates above the campaign by the end.
I have little doubt that this Republican campaign opened a new chapter for partisanship in Dryden. While the Republicans (probably wisely) took some steps to insulate themselves from their national party, adding an independent (if strangely named) "All the People" line, running a Karl Rove-style campaign doesn't make your opponents friendly. Relentless attacks on people's character, especially ones based on falsehoods, don't make the political arena attractive to people who aren't all that partisan to start with. Nelson's closing ad makes it pretty clear that she's proud of the campaign and would do it all the same, which makes me think it's unlikely that the local Republican party will become any less partisan than it was this year - even though it didn't work.
Which brings me to my last question about this campaign: what effect did this tactic have?
I had a very few complaints from Democrats who suggested that their doubts about our candidate's patriotism would keep them from voting for her, but she polled only 51 votes behind David Makar, who seems popular even among active Republicans, and she beat Cheryl Nelson by 128 votes.
It was the "off-off year" (only local elections, not even county) in which Republicans generally have vastly better turnout. The last time we'd had one of these was 2003, when the Republicans took the Supervisor seat by a 3-2 margin and won a 5-0 Town Board. We had great candidates - and for a while it seemed the Republicans didn't have any - but this shouldn't have been a year where Democrats won, no matter what the national political scene might look like. The people motivated by national politics don't usually come out in these "off-off years".
My hope was that while the Republicans might be able to excite their base with these issues, their affect on Democratic voters would be minimal, and gargantuan efforts to get Democrats to the polls would help us win at least some seats.
Looking at the results, though, I don't think that's what happened. The Republican base feels smaller this time than in 2003, when Steve Trumbull had 1800 votes, and even among Republicans, Chris Clauson's 1703 votes dwarf Cheryl Nelson's 1422.
I don't know if the patriotism campaign was less motivating than I'd feared, if perhaps it even alienated some possible Republican voters, or if voters just weren't interested. The Justice race seemed to drive Republican turnout on the east side especially, but Clauson's coattails weren't long. (The Republicans had been hoping Cheryl had coattails - that really didn't work.)
I'll have more election analysis when I can get clearer picture of how many people from each party went to the polls, but for right now, I'm pretty comfortable saying that this was not only a despicable campaign, it was one that didn't work.
I hope local Republicans will learn from that.
Posted by simon at November 16, 2007 8:49 AM in Ithaca Journal , politics (local)
Note on photos