Sungiva at four months
There seem to be two schools of thought about Living in Dryden at the moment. One wonders why I'm so distracted by our new baby and not posting. The other wants all Sungiva photos, all the time, and wonders why I'm not posting enough of those. Hopefully this will help those folks!
Yesterday was Sungiva's four month sort-of-birthday, which she celebrated pretty happily. She's continuing to grow beautifully, finding new ways to entertain us and herself.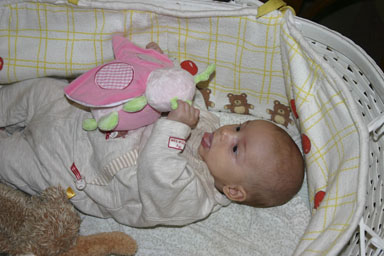 Sungiva explores the world of musical bugs.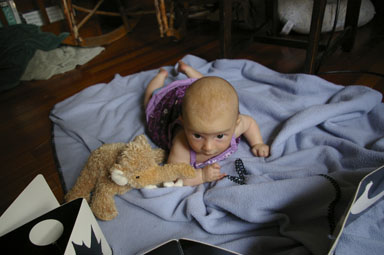 Sungiva with her friendly mammoth.
For many more fun photos, see the third and fourth month gallery.
Posted by simon at July 28, 2008 8:46 PM in Simons Life
Note on photos