Farm City Day 2008
Tompkins County Farm City Day was at Angel Tree Farm last month, on Scofield Road near where Dryden, Groton, and Lansing all meet. They enjoyed showing off their alpacas (and chickens), and I think everyone had a good time.

Alpacas and people at Angel Tree Farms.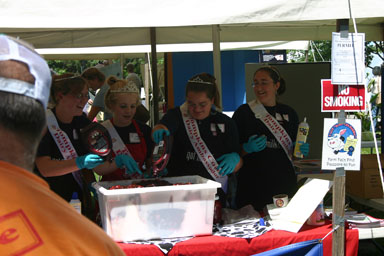 Dairy Princess Lacey Foote and the Dairy Ambassadors make a sundae.
I've posted a larger gallery of photos from the event as well, and the Journal had a story on it too.
(And yes, I'm back, though posting will be slow for a while to come.)
Posted by simon at September 2, 2008 7:41 AM in agriculture , excursions
Note on photos