Where would Varna II go?
I've had a few people ask me where exactly these 260 units would go, so I pulled out some aerial photos from April 2005 that show the site. I wasn't so good with the camera that I got the entire site in one shot, but the two shots I did get show slightly different aspects of the project.
I've drawn the rough outlines of the project on the photos. They aren't precise, but so far as I can tell from the project map, they're reasonably close.
The first shows the project in relation to the Route 366-Mount Pleasant-Freese Road intersection. You can see Observatory Circle, another Lucente project, to the left, and 'downtown Varna' in the lower right.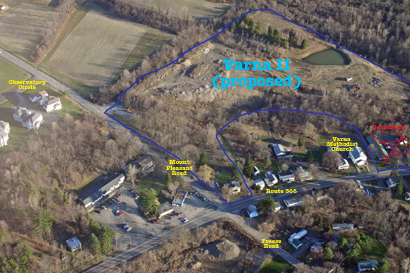 Varna II project in relation to Route 366, Mount Pleasant, and Freese Roads (2005 photo).
The second photo shows where the project will connect to Route 366, and the demolitions planned for that.

Proposed Varna II project connections to Route 366, and demolitions (2005 photo).
You can see much larger versions of both photos by clicking on them. There's a lot going on, and the photos are just complicated enough that it's worth a closer look.
Posted by simon at February 20, 2010 10:37 AM in Varna , Varna II , photos , planning and zoning
Note on photos